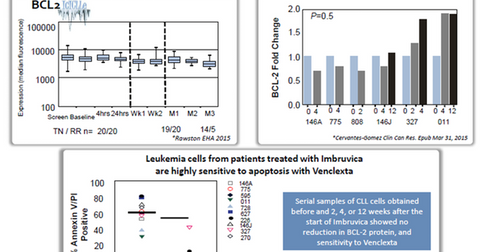 AbbVie's Tests of Imbruvica with Venclexta for Oncology Therapy
By Margaret Patrick

Updated
Combination of Imbruvica and Venclexta
AbbVie (ABBV) aims to develop a novel combination therapy based on Imbruvica and Venclexta. The two drugs are expected to work in a complementary fashion and result in better response rates, subsequently eradicating MRD (minimal residual disease) in hematologic oncology patients.
According to Invivoscribe, "Minimal residual disease…is the name given to small numbers of leukemic cells that remain in the patient during or after treatment when the patient is in remission. These remaining cells are the major cause of relapse."
Article continues below advertisement
Complementary action
The above diagram explains the rationale for Imbruvica and Venclexta combination therapy, as established by ex-vivo analysis, or analysis that takes place outside of the body of an organism.
In patients treated with Imbruvica, UK investigators observed high levels of BCL-2 protein. Venclexta, a BCL-2 inhibitor drug, was approved by the FDA (US Food and Drug Administration) on April 11, 2016, for the treatment of CLL (chronic lymphocytic leukemia) patients with 17p deletion.
According to ChemoExperts, "Venetoclax (Venclexta, ABT-199) is designed to kill cancerous B-lymphocytes that cause the disease known as CLL. Venetoclax does this by binding to and inhibiting a protein in cancerous lymphocytes known as 'BCL-2,' which prevents the cell from dying and also makes it resistant to certain chemotherapy regimens."
Phase-3 clinical trials
Based on these complementary modes of action, AbbVie is currently undertaking six phase-3 clinical trials to test the efficacy of the Imbruvica-Venclexta combination therapy against traditional chemotherapy agents for treating CLL and MCL (mantle cell lymphoma).
If successful, AbbVie will pose strong competition to other hematologic oncology players such as Celgene (CELG), Amgen (AMGN), and Novartis (NVS). Notably, AbbVie makes up 2.5% of the SPDR S&P Biotech ETF (XBI).
In the next part, we'll explore AbbVie's efforts to expand Imbruvica's label for diffuse large B-cell lymphoma.