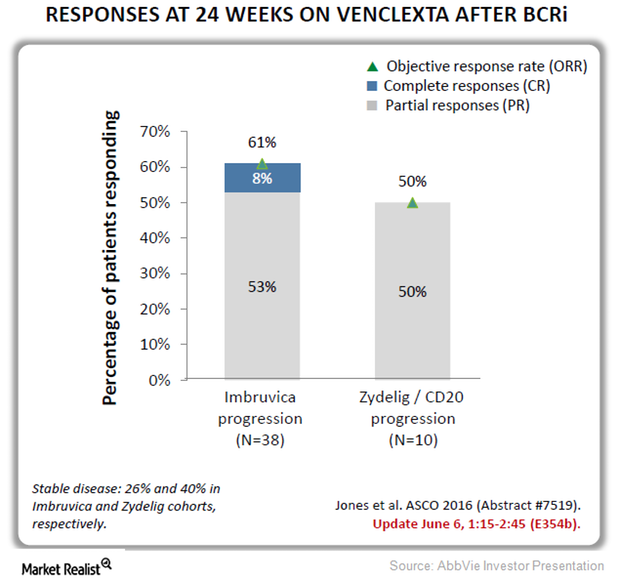 Behind AbbVie's Aggressive Exploration of Venclexta for Multiple Indications
By Margaret Patrick

Jul. 7 2016, Updated 11:05 a.m. ET
Multiple indications
To expand Venclexta's label, AbbVie has been actively researching the use of the drug for different categories of CLL (chronic lymphocytic leukemia) patients. The drug is also being explored for multiple types of NHL (non-Hodgkin's lymphoma). These research programs are expected to help AbbVie become a strong oncology player, similar to peers Amgen (AMGN), Celgene (CELG), and Merck (MRK).
Article continues below advertisement
CLL Research
AbbVie (ABBV) is currently exploring Venclexta for CLL patients who witnessed disease progression despite using BCRi (B-cell receptor pathway inhibitor) therapies such as Zydelig or Imbruvica. In such patients, it has been noted that disease progression is rapid and that the prognosis can be poor. Because such patients refuse to respond to traditional chemotherapy agents, this offers a significant market opportunity for Venclexta. AbbVie expects to obtain results from its phase-3 trial, testing the use of Venclexta for this indication in 2017.
Non-Hodgkin Lymphoma market opportunity
According to American Cancer Society, about 72,580 people in the US are diagnosed annually with NHL. Around 20,150 NHL patients die annually in the US. NHL has median age of diagnosis of around 66. While DLBCL (diffuse large B-cell lymphoma) is a more aggressive type of NHL, it can be treated with anti-CD20 therapy combined with chemotherapy. However, this therapy has a cure rate of only 50%, which implies that half of DLBCL patients die from the disease.
Since indolent NHL, which mainly involves FL (follicular lymphoma), cannot be cured by a current standard of care, it also offers a substantial market opportunity for Venclexta. AbbVie plans to develop a combination therapy of Venclexta with anti-CD20 to target this patient segment. Early data from research programs testing Venclexta in patients with relapsed or refractory NHL demonstrated ORR (overall response rate) of about 44% and a complete response rate of 13%.
AbbVie expects the phase-2 trial data to be released in 2017. If this data supports Venclexta's efficacy and safety profile as a NHL therapy, it could boost AbbVie's share prices as well as the iShares S&P 500 Growth ETF (IVW), which has about 0.6% of its total portfolio holdings in AbbVie.
In the next and final part, we'll explore AbbVie's efforts to position Venclexta as a multiple myeloma and acute myeloid leukemia therapy.