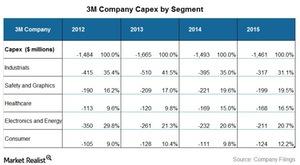 Is 3M Allocating Capital Efficiently among Its Businesses?
By Shannon Black

Updated
Understanding the rationale behind capital allocation
Capital allocation decisions are a core part of all businesses, from hot dog stands to multibillion-dollar conglomerates. The number one priority of any business should be to invest in projects that exceed the its cost of capital.
For example, consider that your cost of capital over one year is 5%. You have the option to invest either in a hot dog stand that returns 10%, a bakery that returns 2%, or an ice cream truck that returns 7% over the same period. Where would you put your money?
You'd choose the hot dog stand. Why? Because it returns your cost of capital and gives you an additional return. Now suppose that the hot dog stand does not require additional capital and you still have enough capital to invest. Where would you put your money? You'd choose the ice cream truck.
Therefore, companies should allocate capital in the order of the highest returning to the lowest returning businesses. Let's analyze 3M Company's (MMM) capital allocation decisions.
Article continues below advertisement
3M's capital allocation decisions
3M's Industrials and Consumer segments are its largest and smallest segments in terms of revenue and operating income, respectively. By virtue of its high operating margins, the Healthcare segment has a disproportionately higher share of the operating income pie compared to other segments.
The Industrials and Electronics & Energy segments underperform other segments, with relatively lower shares of operating income compared to revenues.
A cursory glance shows us that since 2012, 3M has increased its capital expenditures in the Healthcare, Consumer, and Safety & Graphics segments, which are also the units with the highest operating margins.
The Healthcare segment, which has the highest operating margin, has seen its capital allocation rise by ~49% over the last four years. The remaining two segments have seen their capital allocations fall by ~30% over the last four years.
Therefore, 3M's capital allocation decisions do conform to rules that call for dedicating capital to high-returning businesses.
Key ETFs
Investors interested in trading in the industrials space can look into the Vanguard Industrials ETF (VIS) and the Industrial Select Sector SPDR ETF (XLI).
Major holdings in VIS include General Electric (GE) with a weight of 12.2%, 3M Company with a weight of 4.3%, and United Technologies (UTX) with a weight of 3.7%.