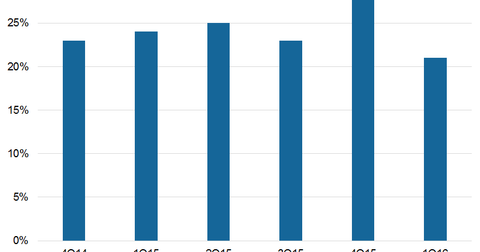 How Will New Senior Direct Lending Program Pan Out for Ares Capital?
By Robert Karr

Updated
Transition from SSLP to SDLP
To continue its success from the SSLP program with GE Capital, Ares Capital (ARCC) established a new joint venture in June 2015 that will make senior secured loans to middle-market companies. The new joint venture will be called the "Senior Direct Lending Program" (or SDLP), through which Ares Capital has built other strong relationships with financial sponsors and companies.
The SDLP will underwrite and hold first lien loans, including stretch senior and unitranche loans that are originated by Ares and Varagon. The program will provide sponsors and management teams with continued access to flexible capital with speed and certainty and without syndication requirements. It's expected that the SDLP will commit and hold individual loans of up to $300 million. Ares Capital may also co-invest with the SDLP to accommodate larger transactions.
Ares Capital had two major criteria to meet in selecting a new joint venture partner:
significant experience in lending to middle-market companies
a strong balance sheet to support the growth of the program
EPS (earnings per share) growth figures for Ares Capital's peers in the investment management space are as follows:
Together, these companies form 0.03% of the SPDR S&P 500 ETF Trust (SPY).
Article continues below advertisement
SDLP challenges
Varagon has been an active syndication partner of Ares Capital since its inception. Ares Capital and Varagon have begun to build a portfolio that could eventually contribute to the SDLP. The SDLP joint venture is modeled after the SSLP, and the company expects investments in the SDLP will take a similar form and deliver similar returns over time.
The major headwind, however, is the switch from its old joint venture with GE Capital, which exited the credit business, to the new venture with an AIG affiliate.
The new venture is in the ramp-up stage with a long way to go to fully replace the GE venture. And in the short term, it could get worse. As Ares Capital moves investments from its books to the joint venture, there will be an immediate decline in its earnings. However, this will free up cash on the company's balance sheet and leverage its earnings power.