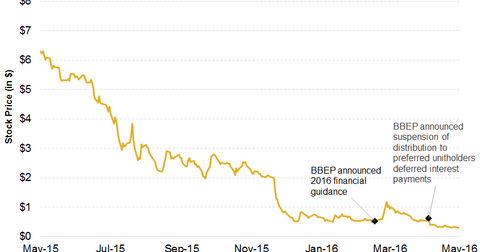 Will Breitburn Energy Partners Continue as a Going Concern?
By Kurt Gallon

Updated
Breitburn Energy's market performance
Breitburn Energy Partners (BBEP) currently trades at $0.30—95.2% down from $6.20 per share a year ago. The upstream energy company–heavy SPDR S&P Oil & Gas Exploration & Production ETF (XOP) has lost 38.8% during the same period. BBEP's poor market performance reflects its high leverage, weak earnings, and weak liquidity position.
Breitburn Energy Partners (BBEP) is currently going through a liquidity crisis. With the decline in BBEP's earnings, the situation becomes worse. In an April 14, 2016, press release, BBEP announced the suspension of distribution to preferred unitholders and the deferral of the interest payment on senior notes, which was due on April 15, 2016.
BBEP had a 30-day grace period for interest payments amounting to $46.7 million. The grace period expires within the next five days. According to the recent 10-Q filing, the partnership is looking for strategic alternatives such as refinancing, restructuring, or raising additional capital through debt or equity issuance.
Plus, the partnership is expecting the borrowing base under its credit facility to be redetermined in late May 2016. If the current borrowing base of $1.4 billion falls below the current outstanding total of $1.2 billion under its credit facility, then BBEP must pay "the deficiency in five equal monthly installments."
In the event that BBEP defaults its interest payments or the borrowing base falls below the outstanding amount, then it might not continue as a going concern and would be forced to "seek bankruptcy protection." BBEP didn't provide any updates regarding the above liquidity issues in its 1Q16 earnings release. We'll have to wait for further information on this issue.
The problem of a bad financial position is not limited to Breitburn Energy. Its peers Memorial Production Partners (MEMP), Linn Energy (LINE), and EV Energy Partners (EVEP) are facing a similar or even worse situation.
Analysts' ratings for Breitburn Energy
At a broader level, 77.8% of analysts surveyed by Bloomberg rate Breitburn Energy a "hold" and the remaining 22.2% rate it as a "sell." The most recent rating for BBEP by Wells Fargo Securities is "underperform," which is equivalent to "sell."
For more post-earnings coverage on midstream and upstream MLPs, check out our Master Limited Partnerships page.