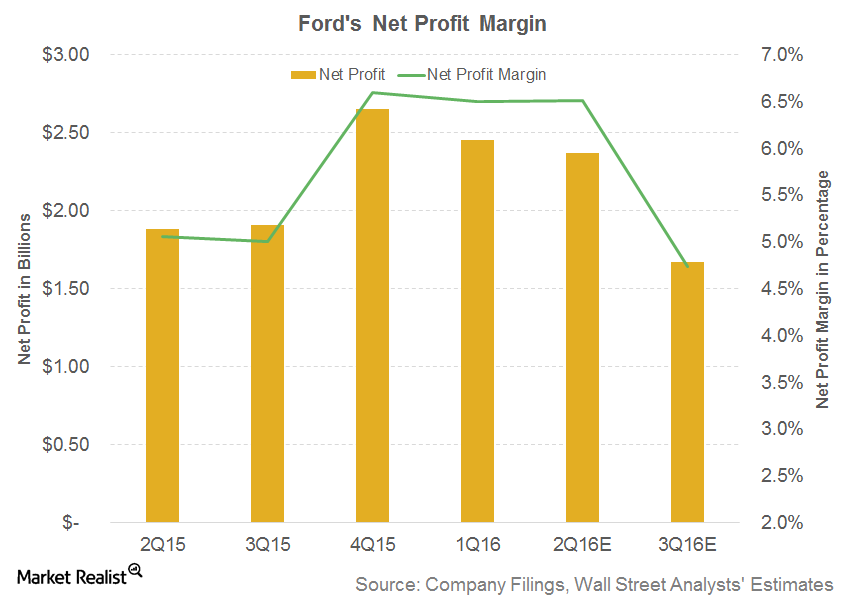 Why the F-150 Is Still Critical to Ford's Profitability
By Jitendra Parashar

May. 4 2016, Published 10:29 a.m. ET
Ford's profitability
Previously, we looked at how higher fleet sales proved to be a great deal for Ford Motor Company (F) in 1Q16. Apart from higher deliveries of sports utility vehicles and Ford Transit fleet customers, higher sales of F-150 pickup trucks helped the company to achieve higher margins.
In this part of the series, we'll figure out how F-150 trucks are still critical for Ford's profitability.
Article continues below advertisement
High net profit margins
In 1Q16, Ford's net profit margin expanded to 6.5% in 1Q16 compared to 3.4% in the corresponding quarter of the previous year. This was also higher than General Motors' (GM) 6.2% and Fiat-Chrysler's (FCAU) 1.8% net profit margins.
Note that US automobile sales were at their highest historical level last year. Additionally, in the last couple of years, automakers including Ford, GM, FCAU, and Toyota (TM) have reported higher demand for sports utility vehicles and trucks than for small cars in North America.
This trend in demand has helped these companies to improve profitability, as heavyweight vehicles tend to be more profitable than small cars.
Unbeatable F-series
Among all the vehicles offered by Ford, the F-series has a special place in the automobile market. In 2015, nearly 780,000 F-series pickup vehicles were sold, a year-over-year rise of 3.5%. In 1Q16, Ford sold ~186,000 F-series pickup trucks in the United States. This was 5% higher than the ~177,000 trucks it sold in 1Q15.
The F-150 is the heavy-duty, full-size pickup truck in the series. The F-150 line of trucks has been the best-selling vehicle in the United States for more than three decades now. This shows the company's strength in maintaining its leadership in the US auto market (RWL). This strength in demand for the F-series continued into 1Q16 as well.
Ford has made a significant change in its F-150 pickup truck line in recent years. The company is now producing a new aluminum body version of the F-150. This new version provides an improved power-to-weight ratio over previous generations. The aluminum body results in better fuel efficiency and faster acceleration. With this change, the costs involved in producing the truck have reduced, leading to higher margins in 1Q16.
You can read more about the history of Ford's F-series trucks in our Ford overview series.
Continue to the next article to read about how the company's financial services arm performed in 1Q16.