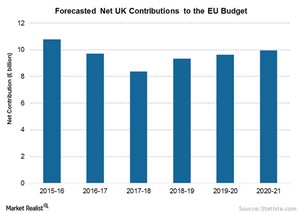 Why the United Kingdom Should Stay in the European Union
By Ewen Cameron Watt

May. 6 2016, Updated 12:12 p.m. ET
Our view on a Brexit
Many BlackRock clients are concerned about the possibility of a Brexit and have been asking for our view on the implications. To that end, The BlackRock Investment Institute recently published "Brexit: Big Risk, Little Reward | The UK Referendum on Europe," a report that collates our thoughts on the matter.
We believe it's a good idea that the U.K. stay in the EU. The economic and financial costs of a Brexit are material for the U.K., in our final analysis, both in the near and long term. And it's not just the U.K. economy that would feel the effects of Brexit: The EU would lose a world-class financial center, a major budget contributor, a defense pillar and a leading voice for free markets.
Article continues below advertisement
Market Realist – A Brexit would be a lose-lose situation
It would be prudent for the United Kingdom (EWU)(EWUS) to continue with the European Union. Exiting the EU and pursuing an unpredictable model would entail significant economic and political risk. The long transition process and heightened uncertainty over the United Kingdom's economic and political relationships with the European Union (IEV) would damage investors' confidence and result in fewer investments. For example, the UK automotive and financial services industry is largely built on the European Union's market size. The EU (IEUR)(EZU) accounts for 41% of the United Kingdom's exports of financial services, which a Brexit would affect.
The EU would also face a lot of pain after a Brexit. The most important effect would be the loss of the world's premier financial center. According to an index published by Z/Yen Group, London moved ahead of New York as the world's top financial center. Zurich, which was ranked seventh, is the only other European city to make the top 10. Many European businesses access global markets through London.
Plus, Britain is the third-largest net contributor to the EU budget. As the chart above shows, its average annual contribution is likely to exceed 9 billion pounds sterling over the next five years. Plus, the United Kingdom's role in the EU supports Europe's security.
The United Kingdom is one of the strongest proponents of a free market in the European Union. It has lent a strong voice to EU trade negotiations with other countries. Without the United Kingdom, the European Union would be a less attractive trading partner for many countries.