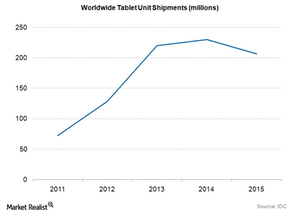 Why the Tablet Market Couldn't Keep up with Growth Potential
By Puneet Sikka

May. 6 2016, Updated 9:08 a.m. ET
The tablet market has become saturated
When Apple (AAPL) launched its iPad in 2010, it was considered to be the next growth area for the company. Although Apple was not the first player to have introduced a tablet, it certainly attracted users with its design and interface. Apple's iPad instantly became a hit, the most-sought-after device for playing games and watching videos. For a while, some even considered tablets to be devices capable of replacing PCs.
Article continues below advertisement
However, gradually the tablet market started to show signs of saturation. Although iPad continued to be the leader in the tablet market, its sales started to decline after a peak in 2014 (see chart below). In 2015, we saw the first decline in tablet sales on a year-over-year basis. But according to IDC, this market will decline by a further 6% in 2016.
How bigger iPhones cannibalized iPad sales
After its initial popularity, tablets started to become secondary to smartphones and PCs. Amazon (AMZN) and Google (GOOG) launched low-cost tablets in an effort to grow their services business. Amazon tried make up for the losses on selling tablets by attracting users to purchase products through its e-commerce platform on its tablet. Google aimed to grow its online ad business. BlackBerry (BBRY) also launched its PlayBook tablet to diversify its smartphone business, but it failed to make any large impression among users.
As smartphones became bigger in size, there was little need to have a tablet in hand. Apple itself has admitted that its bigger sized iPhones have started to cannibalize iPad sales. Apple was then forced to launch a bigger iPad named iPad Pro. Microsoft (MSFT) also launched its Surface tablet series to tap enterprise users. It even claimed that its Surface tablets had the potential to replace laptops. To be sure, IDC believes that detachable tablets could be the next growth driver, which could bring the overall tablet market growth to positive territory by 2017.
Keep reading for the Nokia story.