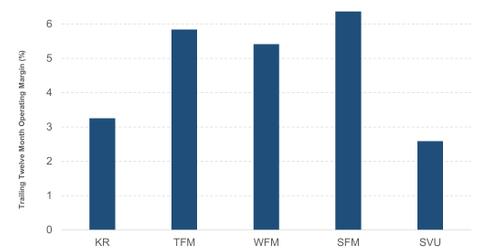 How Does Sprouts Maintain a Strong Bottom Line?
By Sonya Bells

Updated
Comparing Sprouts' margins to peers
Sprouts Farmers Market (SFM) boasts one of the best margins in the supermarket industry. The company's competitive pricing strategy on its fresh organic produce has been successful in attracting shoppers. Its strong private label portfolio, which features 1,700 private-label items, has provided the necessary cushion to its margins even in times of intense competition.
The company's operating margin over the last 12 months stands at 6.4% as compared to Kroger's (KR), Whole Foods' (WFM), and The Fresh Market's (TFM) operating margins of 3.3%, 5.4%, and 5.8%, respectively.
Article continues below advertisement
Margins and profitability in 4Q15
Sprouts Farmers Market (SFM) delivered an earnings surprise of $0.02 per share in fiscal 4Q15 ended January 3, 2016. Its EPS (earnings per share) stood at $0.18, a whopping 50% more than fiscal 4Q14. The company's better-than-expected results were driven by gross margin improvement and lower operating expenses as a percentage of sales.
Gross margin improved 13 basis points to 28.9% in 4Q15, primarily due to lower utility costs and higher margins in certain categories due to product deflation. This improvement was partially offset by the price investments made by the company in order to stay competitive.
Operating expenses as a percentage of sales improved from 24.2% in 4Q14 to 23.7% in 4Q15 due to the leverage from the additional week in 4Q15 and lower corporate expenses. As a result, the adjusted EBITDA in 4Q15 stood at $66.5 million, up by 25% YoY. Adjusted net income for fiscal 4Q15 totaled $28.4 million, increasing by a solid 57% as compared to the same quarter last year.
Sprouts (SFM), Kroger (KR), Whole Foods Market (WFM), and The Fresh Market (TFM) are included in the holdings of the SPDR S&P Retail ETF (XRT). Together, they account for approximately 4.2% of the ETF's weight.
Read the next section to learn about the company's near-term and mid-term guidance.