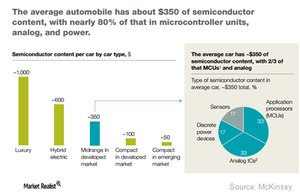 Self-Driving Cars Could Mean Big Growth Opportunities for NXPI
By Puja Tayal

May. 31 2016, Published 12:36 p.m. ET
NXPI: The largest automotive semiconductor company
In the previous part of this series, we saw that many analysts find NXP Semiconductors (NXPI) to be a lucrative acquisition target. It's the largest automotive semiconductor company in the world. The two biggest semiconductor consumer markets—PCs and smartphones—are slowing down while the automotive market is growing since semiconductor content in cars is increasing. This trend is likely to intensify as the automotive market progresses toward self-driving cars.
Article continues below advertisement
Self-driving cars—the future of automotive
According to McKinsey, premium cars contain $1,000 in semiconductor content, of which $300 comes from NXP. Overall semiconductor content is expected to increase to more than $2,500 in self-driving cars, according to analysts. Canaccord analyst Matthew Ramsay wrote, "We believe the emergence of self-driving driving and ADAS (advanced driver assistance systems) will push overall semiconductor content per vehicle higher by 50% to greater than $500 by 2025."
Apart from semiconductor content per vehicle, NXP would also benefit from an increase in the number of self-driving cars. Many companies—such as Tesla Motors (TSLA), Ford (F), and Google (GOOG)—are working on developing self-driving cars. IHS Automotive expects self-driving cars to account for 10% of light vehicles sold by 2035.
However, NVIDIA (NVDA) is likely to be a bigger beneficiary of self-driving cars than NXPI. NVIDIA has developed the world's most advanced self-driving driving technology, Drive PX 2. More than 50 automakers are testing or using this platform.
While self-driving vehicles are likely to boost the automotive semiconductor industry in the long term, they've created some mid-term growth opportunities. We'll look into these opportunities in the next part of this series.
The iShares Russell 1000 ETF (IWB) has holdings in large-cap US equities across sectors, including technology. It has 0.12% exposure to NVDA, 0.4% to QCOM, and 1.04% to GOOG.