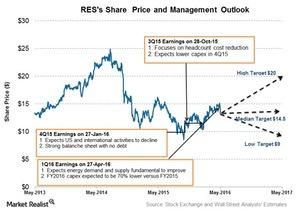 Understanding the Outlook of RPC, Inc.'s Management
By Alex Chamberlin

Updated
Straight from the CEO
RPC, Inc.'s (RES) management thinks that energy sector economics will get better and that this will benefit the OFS (oilfield services and equipment) industry in particular.
In its fiscal 1Q16 press release, RPC, Inc.'s Chief Executive Officer Richard A. Hubbell stated that "The oilfield service industry is responding to its customers' actions with equally extraordinary efforts to remain in operation in anticipation of the eventual industry recovery."
Article continues below advertisement
RPC, Inc.'s management on competition
Hubbell also foresees that the current energy environment will continue to have a bearing on OFS industry players. In the company's fiscal 1Q16 press release, he also stated that "In spite of the deepening depressed operating environment, we believe that supply and demand fundamentals will improve," adding that "Oilfield service companies…have adopted a long-term view and have the means to act on that view by maintaining their revenue-producing capacity" and that such companies "will benefit from the eventual industry recovery."
Analyst targets for RES
Wall Street analysts have varied opinions about RES's target prices in the next 12 months. After its fiscal 1Q16 earnings release, the lowest target price for RES was $9 while the highest was $20. The median target price surveyed among sell-side analysts was ~$14.5.
RES is currently trading at $13.7, implying a 5.8% upside to its median price. C&J Energy Services (CJES), by comparison, just received a $3.1 median target price. Relative to its current price of ~$1.1, this price implies a 1.8x upside.
Notably, RES makes up 0.01% of the iShares Core US Value ETF (IUSV), and for investors looking for exposure to the energy sector in general, energy makes up 12.6% of IUSV.
Now let's discuss RES's 1Q16 revenue and earnings.