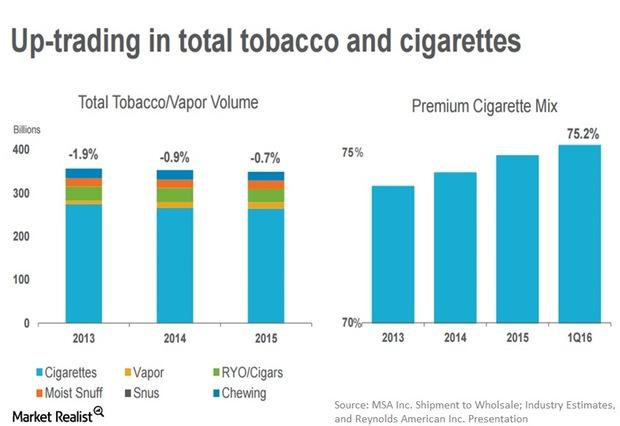 Reynolds American: Demography of Adult Tobacco Consumers in the US
By Penny Morgan

May. 20 2016, Published 12:29 p.m. ET
Investors meet in London
On May 16, 2016, Reynolds American (RAI) held an investors meeting in London. The company's CEO, Susan Cameron, was accompanied by RAI's chief operating officer, Debra Crew, as well as its chief financial officer, Andrew Gilchrist. The team highlighted the company's broad strategies for developing brands, its 1Q16 results, and its growth outlook.
Article continues below advertisement
Trends driving US consumers
Currently, there are 50 million adult tobacco consumers in the US—half of these smokers are under the age of 30. The changing preferences of consumers make it difficult for tobacco companies like RAI and peers Philip Morris (PM), Altria Group (MO), and Japan Tobacco (JAPAF) (JAPAY) to seek cigarette alternatives that meet their expectations.
Approximately 46% of all adult consumers look for products that better meet their expectations. Four trends that drive these consumers' choices are:
seeking alternatives to cigarettes
preference for menthol
demographics
value hunting
Current industry dynamics
The cigarette industry's volume was high in 2015, continuing through 1Q16. Migration and the use of three or more different tobacco forms, up-trading to premium-priced cigarettes, and adult smokers' preference for menthol has increased significantly in the last several years—1Q16 was no exception.
This is primarily due to positive macroeconomic factors that resulted in increased disposable income for adult smokers. Gasoline retail prices fell by 28% in 2015 and by 23% in 1Q16. Lower gas prices, lower unemployment rates, and higher wages have improved adult smokers' disposable incomes.
Reynolds American (RAI) expects cigarette volumes to be down, closer to the -2% range for the year, as consumers move into premium brands at the expense of value or discount brands in the US. Premium brands include Natural American Spirit, Newport, Marlboro (PM) (MO), and Camel, which are all priced above the national average price per pack of $5.87.
We will learn more about Reynolds American's strategies to boost its portfolio of brands in the next part of this series.
On May 16, 2016, RAI comprised 1.9% of the iShares MSCI USA Momentum Factor ETF (MTUM).