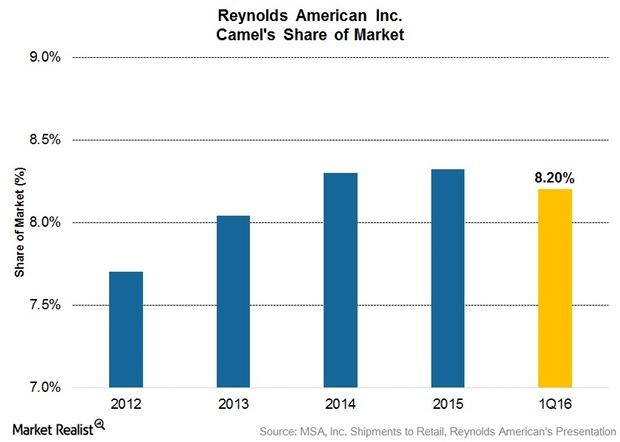 Reynolds American's Camel Brand Ranked Number 3 in the US
By Penny Morgan

May. 20 2016, Updated 12:33 p.m. ET
Pall Mall moves to number 4
Reynolds American's (RAI) combustible brands include Pall Mall and Camel. Pall Mall has been a solid success for Reynolds over the past decade. According to the company's chief operating officer, Debra Ann Crew, Pall Mall brand's value proposition of premium quality at an attractive price has helped the brand rank number four among other cigarette brands in the US.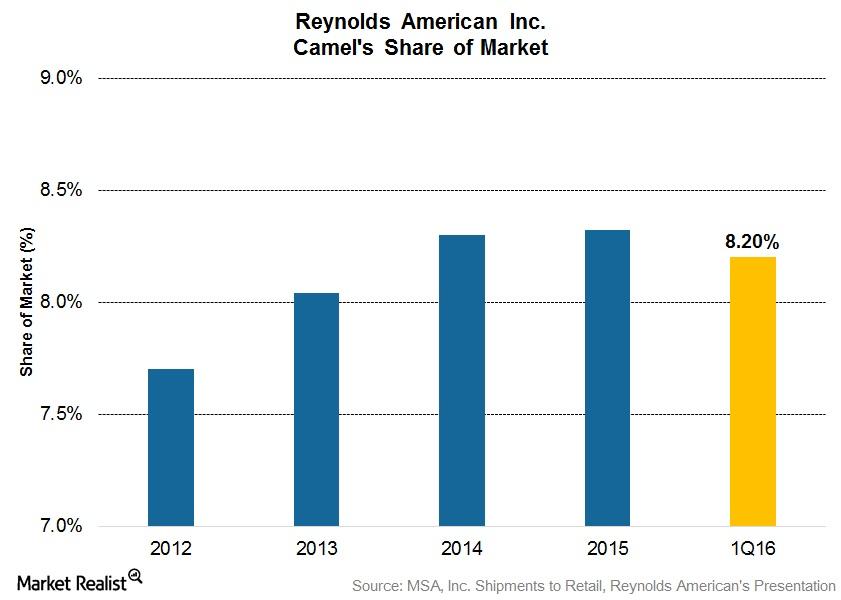 British American Tobacco (BTI) produces Pall Mall cigarettes internationally at multiple sites. Similarly, Philip Morris International (PM) is licensed with Altria Group (MO) for Marlboro's international business. Reynolds continues to increase awareness of Pall Mall through brand building, balance profitability, and market share of the brand.
Article continues below advertisement
Camel brand architecture
According to Crew, Reynolds American's (RAI) Camel brand is positioned to thrive and is the number three brand in the US. Camel's portfolio of offerings across premium, non-menthol, menthol, and premium value segments makes it difficult for the brand to fend off its significant competition.
However, Reynolds plans to strengthen Camel's brand architecture by reevaluating, revamping, and upgrading popular and profitable product families in order to build brand equity.
For example, Camel launched its Hump promotion in March, which offered digital content and gifts for adult tobacco consumers. The promotion spotlights unique content on unexpected topics, people, places, and events, reflecting Camel's image.
Website redesign and Since Now campaign
Reynolds American (RAI) redesigned Camel's website in January 2016. The website features a bold, simple design optimized for mobile devices. Also, Camel's entire product family—including Classics, Crush, Wides, No. 9, Red Camel, and Camel Snus—is linked together on the new website.
In its move to celebrate Camel's heritage, Reynolds is introducing Camel's Since Now visual campaign, which will be visible in retail (XRT) locations later in 2016. Crew noted that the campaign will be utilizing various one-to-one marketing channels.
Reynolds American (RAI) constitutes 1.9% of the Vanguard Dividend Appreciation ETF (VIG).