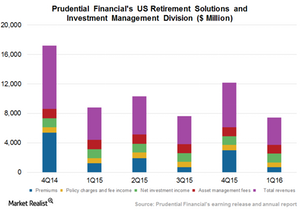 Prudential's US Retirement Solutions Saw Lower Returns
By Robert Karr

Updated
US Retirement Solutions segment
Prudential Financial's (PRU) US Retirement Solutions and Investment Management division has contracted over the past few quarters, which is largely a reflection of market factors. Non-coupon investment returns were lower than expected. Overall industry trends continue to impact active management strategies and therefore earnings in the division.
In 2Q16, the division is expected to see some improvement in retirement solutions due to higher asset management income. In 1Q16, the division reported adjusted operating income of $712 million, forming 53% of the company's total adjusted operating income compared to $1.0 billion in the corresponding quarter last year.
Article continues below advertisement
Asset management segment
In 1Q16, Prudential's Asset Management segment posted adjusted operating income of $165 million compared to $205 million in last year's quarter. The segment's incentive, transaction, strategic investing, and commercial mortgage activities contributed $25 million less for the quarter.
Asset management fees fell on lower average equity assets under management, partially offset by higher fees from third-party fixed income assets management.
Below are some of Prudential's peers in asset management who have considerable assets under management:
Together, these companies form 0.63% of the iShares MSCI ACWI ETF (ACWI).
Individual annuities and retirement segments
In 1Q16, the Individual Annuities segment's operating income dropped significantly to $328 million compared to $529 million in the corresponding quarter last year. The earnings decrease included a charge of $53 million while 1Q15 included a benefit of $106 million. Excluding the effect of foregoing items, operating income in this quarter fell $42 million compared to 1Q16.
This decrease reflects lower asset-based fees driven by a decline in average variable annuity account values, higher expenses, and a lower contribution from net investment results including current quarter returns on non-coupon investments modestly below average expectations.
Prudential's Retirement segment has been showing steady improvement due to its pension risk transfer business, though the segment is lower overall compared to the previous year at $219 million on the back of lower contribution from investment results, lower fees in full-service business, and higher expenses.