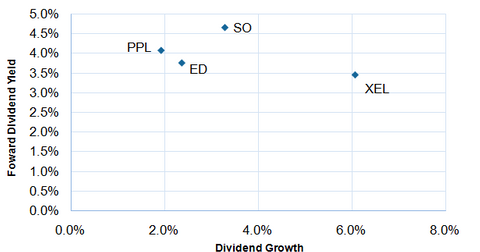 The Latest Forward Yield and Dividend Growth Numbers among Utilities like PPL
By Vineet Kulkarni

Updated
PPL's forward dividend yield
A company's forward dividend yield is calculated by dividing its estimated one-year future dividend per share by its current market price per share. PPL Corporation (PPL) is currently trading at a forward dividend yield of 4%, with an expected dividend growth rate of slightly under 2% for the next two years.
Article continues below advertisement
Peer comparisons
Among PPL's regulated peers, Xcel Energy (XEL) is likely to have better dividend growth over the next two years. It has an expected dividend growth of 6%, with a forward dividend yield of 3.5%. New York's regulated utility, Consolidated Edison (ED), has an estimated dividend growth rate of 2.2%, and it is currently trading at a forward yield of 3.8%.
Many mid-size regulated utilities are currently trading in the same forward yield range as Xcel, with dividend growth expected to be in the range of 4%–6%, depending on their earnings. But given their relatively stable earnings, regulated utilities are expected to pay more stable dividends than unregulated ones.
DVY
The iShares Select Dividend ETF (DVY) is a smart beta fund that aims to generate returns higher than broader markets. DVY tracks and holds 100 high-dividend-paying companies in the US. It has a high exposure of over 31% to utilities, and PPL has near 1% weighting in DVY, which makes it an attractive investment option for investors seeking high yield and low risk.
Continue to the next part for a look at how PPL is preparing for the US Clean Power Plan.