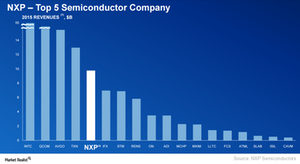 Is NXPI a Lucrative Acquisition Target for QCOM, AVGO, or TXN?
By Puja Tayal

Updated
Analysts find NXPI a lucrative acquisition target
2015 changed the semiconductor landscape. Some of the biggest mergers restructured the top five semiconductor companies. Broadcom merged with Avago (AVGO) and took the third spot on the top five semiconductor list, and Freescale merged with NXP Semiconductors (NXPI) to take the fifth spot.
NXPI has attracted some analyst attention for becoming the largest automotive semiconductor company in the world. Amid the slowing semiconductor industry, the automotive segment reported strong results. All the companies with exposure to this segment have been reporting growth in automotive products.
Analysts believe Qualcomm (QCOM), Broadcom (AVGO), or Texas Instruments (TXN) will ultimately acquire NXPI to transform their business.
Article continues below advertisement
Cowen & Company analyst
Cowen & Company analyst Tim Arcuri stated that NXP would be a better acquisition target for Qualcomm in response to rumors surrounding a potential $15 billion merger between Qualcomm and Xilinx (XLNX). He stated that if Qualcomm acquires NXP, it would transform the Qualcomm business with NXP's dominant position in the automotive semiconductor market. Plus, the acquisition would be tax-efficient due to NXP's offshore capital.
Nomura analyst
Nomura analyst Romit Shah is optimistic about NXP. He sees several factors that make it a "highly qualified" acquisition target:
NXP is the world's fifth-largest semiconductor supplier—40% of its revenue comes from automotive sales. Its earnings are accretive, so it could transform the acquirer's business.
NXP dominates in the areas of microcontrollers, protected identification, and mobile transactions.
NXP has significant exposure to global channels, giving it ample opportunity to cross-sell and increasing its revenues without incurring additional selling expenses.
NXP is predicted to report earnings per share of $5.50–$6 in fiscal 2016 and increase this range to $9–$10 by fiscal 2018.
In this series, we'll see what makes NXP a lucrative acquisition target. The PowerShares QQQ ETF (QQQ) has holdings in technology stocks, including 8.6% exposure to semiconductor stocks. It has 0.62% exposure to NXPI, 1.2% to AVGO, 1.2% to TXN, and 1.6% to QCOM.