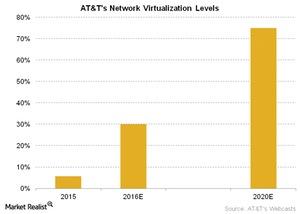 How Network Virtualization Is Impacting AT&T's Capital Expenditures
By Ray Sheffer

Updated
AT&T's network virtualization
The Jefferies Technology, Media, and Telecom Conference took place on May 12, 2016. During the conference, Scott Mair, AT&T's (T) senior vice president of technology planning and engineering, discussed the company's virtualization efforts.
Mair noted, "The network is built up of a series of functions and what we're doing is we're taking those functions from hardware and custom software to just virtualizing into software."
Article continues below advertisement
He added, "We're going to virtualize 200 different functions – you now then can begin to stitch those together or the technology term is orchestrate those into products and services in a way that scales, that allows you to add future functionality faster than you ever could before; and gives you a good cost curve because you're running it on commodity hardware."
AT&T's network virtualization and capital investments
AT&T (T) noted that its virtualization and software-defined networking efforts are positively impacting its capital investments. During AT&T's 1Q16 earnings conference call, John Stephens, the company's senior executive vice president and CFO, noted, "Our virtualization and software-defined networks are already delivering material CapEx savings. We will be adding 2.5 times more capacity at 75% of the capital cost compared to just a few years ago."
AT&T has planned significant expansion in its virtualization effort. As shown in the chart above, AT&T has planned to virtualize more than 75% of the network by the end of 2020. According to the company, this figure had reached 5.7% by the end of 2015. Earlier, the company had set 5% as the goal for 2015. By the end of 2016, this figure is targeted to reach 30%.
For a diversified exposure to select telecom companies in the US, you may consider investing in the SPDR S&P 500 ETF (SPY). SPY held ~2.7% in AT&T (T), Verizon (VZ), CenturyLink (CTL), Frontier Communications (FTR), and Level 3 Communications (LVLT) at the end of April 2016.