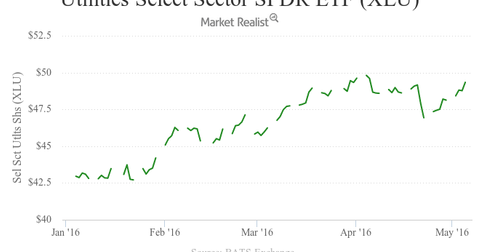 This Income Arbitrage Can Get You a 35% Return on Your Investment!
By Surbhi Jain

Nov. 22 2019, Updated 7:20 a.m. ET
Here's the math
In his interview at the Sohn Investment Conference, Jeffrey Gundlach shared his thoughts on how you could earn a 35% return through an income arbitrage involving buying mortgage REITs (REM) and shorting utilities (XLU).
Since the middle of 2003, utilities are up like 40%, while mortgage REITs are slightly negative over their 2003 value. So, the valuations are incredibly stretched, according to Gundlach. So, if you own REITs, you get a yield of more than 11%. If you own utilities, you get a 3% return. So, you have an 8% positive income arbitrage right there!
Lever it once and you'll get 15%. He also sees the two (mortgage REITs and utility) prices converging (their price to earnings and book value ratios) by at least 10%. So, you get a minimum of a 35% return in a year or so.
Article continues below advertisement
Commodities
Gundlach also discussed commodities—oil and gold.
Article continues below advertisement
Oil
On the commodity side, Gundlach thinks that oil made it easily to $40 per barrel. It might have a hard time reaching $45 per barrel. If it goes back down to $38, it might be a concern.
Gold
Gundlach also liked gold. "Gold is doing fine. It's preserving capital in the US, it's been making money over the last couple of years for European investors. That's why I own gold. Because in a negative return environment anything that holds its value or makes a little is good," said Gundlach at the conference.
Let's move on to Gundlach's views on the US stock market and on stocks such as Apple (AAPL), Amazon (AMZN), and Tesla (TSLA).