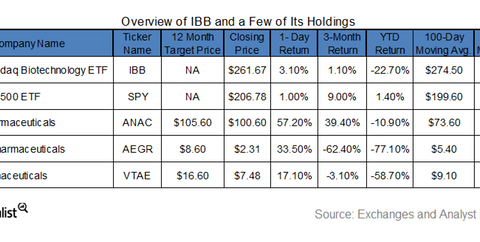 IBB's Holdings Surge on Positive Market Sentiment
By Peter Neil

Updated
IBB moves higher
On May 16, 2016, US markets moved higher on account of technology stocks and the rise in oil prices. The Dow Jones Industrial Average and the SPDR S&P 500 ETF (SPY) both gained 1%. The iShares Nasdaq Biotechnology ETF (IBB) outperformed the broader markets and moved up by 3.1%. The surge helped IBB to cut down its year-to-date losses. As of May 16, 2016, IBB's year-to-date losses stood at 22.7%.
The above table shows the prices of IBB, SPY, some of IBB's holdings, along with returns and moving averages on May 16, 2016. The iShares Nasdaq Biotechnology ETF closed at $261.67 and was trading below its 20-day moving average.
Article continues below advertisement
IBB's top performers on May 16
The top performers within IBB on May 16, 2016, were Anacor Pharmaceuticals (ANAC), Aegerion Pharmaceuticals (AEGR), and Vitae Pharmaceuticals (VTAE), which went up by 57.2%, 33.5%, and 17.1%, respectively. Anacor Pharmaceuticals moved up as Pfizer (PFE) acquired Anacor Pharmaceuticals for $5.2 billion. We'll discuss the acquisition deal in the upcoming part of this series.
Aegerion stock gained during the trading hours, but the stock was down ~15% in the post-trading hours, as it reported 1Q16 losses. It reported 1Q16 revenues at $35.7 million as compared to $59.4 million in 1Q15. On a GAAP (generally accepted accounting principles) basis, it recorded a net loss of $65.6 million as compared to $15.8 million in 1Q15. It revised its full-year sales to be between $130 million to $150 million as against the earlier guidance of $160 million to $190 million. Vitae Pharmaceuticals rose on hopes that its atopic dermatitis drug (VTP-38543) might create more value to the company after Anacor's acquisition by Pfizer.