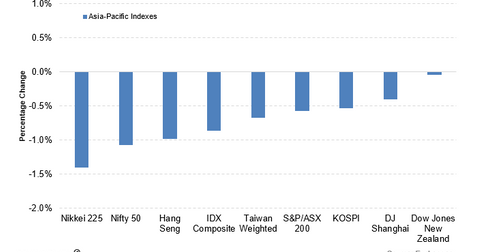 German GDP Release Is Strong, DAX Leads European Market
By David Meyer

Updated
Asian markets trading lower as yen appreciates
The major Asian markets (AAXJ) were trading lower in May. Asia seemed to be following negative sentiments from the US. The Kansas City Fed president gave a bullish statement. For more details on the statement, read Kansas City Federal Reserve President George Expects Rates to Increase.
The Japanese yen was trading slightly lower at 109.15 after the initial rise as of 8:30 AM EST on May 13. The Japanese (DXJ) Nikkei 225 and the Indian Nifty 50 were among the biggest losers for the day. They fell 1.4% and 1.1%, respectively. The Chinese (MCHI) DJ Shanghai Index also registered losses for the day. It fell by 0.40%.
Article continues below advertisement
European markets mostly positive
Critical European indexes (DBEU) were trading on a positive note on May 13 after the German GDP (gross domestic product) growth was above the forecast. DAX led the European indexes higher. The European indexes (HEDJ) were also buoyed by the overall Eurozone GDP release. It was in line with the forecasts.
Specifically, the SPDR Euro Stoxx 50 ETF (FEZ) was trading 0.13% higher at 7:30 AM EST. The German DAX and French CAC 40 also posted gains. DAX rose by 0.32%. CAC rose by 0.05%.
German GDP rose in contrast to the rest of the developed world
Destatis reported the German GDP rose at a pace of 0.7% on a quarter-over-quarter basis. The report suggested that the growth was primarily due to the increase in domestic demand. The final consumption expenditure increased for households and the government. On a YoY (year-over-year) basis, the German GDP grew. It was slightly below the forecast at 1.3%. The YoY inflation rate was published on May 13. Inflation fell by 0.1%. This was slightly below the forecast.