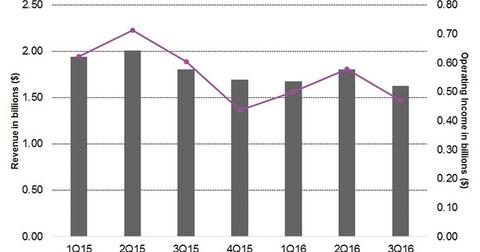 How FX Impacted Procter & Gamble's Grooming Segment by 7% in Fiscal 3Q16
By Penny Morgan

Updated
Grooming segment's 3Q16 revenue
Net revenues from Procter & Gamble's (PG), or P&G's, Grooming segment in fiscal 3Q16 came in at $1.6 billion. But the segment's net sales were 9.9% lower than in fiscal 3Q15. This change in sales was due to unprecedented foreign exchange impact, which reduced the segment's top line by 7%.
Article continues below advertisement
Organic sales
Organic sales for the Grooming segment decreased by 1% as growth from Fusion Proshield was more than offset by increased competitive activity in the mid-price and value-price tiers by Estée Lauder (EL), Unilever (UL), and Dollar Shave Club (DSC). Meanwhile, growth in international markets was offset by declines in the US. Before fiscal 2Q16, P&G's Gillette Filed a Lawsuit against Dollar Shave Club for violating its intellectual property by selling its razors.
Developing markets sales grew to benefit from premium innovation and higher pricing in Shave Care and Appliances were more than offset by unit volume declines.
Consumer value communication
In order to improve growth and the growth of the market for the Grooming segment, P&G is investing heavily in innovation, new user trials, and improved consumer values. Last quarter, P&G rolled out Gillette Fusion ProShield and ProShield with lubrication to help against irritation during every shave. This increased the product's market share in the US.
Due to aggressive competition at lower price points, P&G is focusing on supporting a broader product ladder with stronger consumer value communication. The company plans to focus on Fusion FlexBall ProShield and premium-priced and superior performance disposables. This will help P&G's brands gain superior consumer value.
In-store innovation and e-commerce
During P&G's 18th birthday sampling program, the company plans to come out with the FlexBall razor handle and the ProShield cartridge. Similarly, last year, Fusion ProGlide FlexBall razors were put through sampling and saw a 33% increase in one year.
Like peers Colgate-Palmolive (CL) and UL, P&G is focusing on in-store innovation to help retail customers move out of lock boxes on shelves to easy hard tags at checkouts, as well as on e-commerce.
Notably, PG made up 9.7% of the iShares US Consumer Goods ETF (IYK) as of April 29, 2016.
Now let's analyze P&G's Healthcare segment.