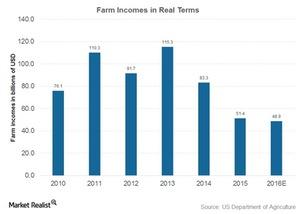 Why Farm Income Is the Biggest Indicator of Deere's Performance
By Shannon Black

Updated
Agriculture equipment key indicators
Profits in the farm equipment business are largely tied to trends in the agricultural (DBA) economy. Farmers are more likely to loosen their purse strings for equipment purchases when they earn more money on their produce and make record profits.
Crop prices and farm income figures are therefore considered to be key indicators for the agriculture equipment business. Corn (CORN) and soybean (SOYB) together account for around 50% of crop receipts in the United States. Investors could also look to the trends in these crops for potential warning signs of problems in the industry.
Article continues below advertisement
Farm incomes since 2010
As seen in the above chart, according to the U.S. Department of Agriculture's (or USDA) figures, net farm incomes in the United States rose from $76 billion in 2010 to $115.3 billion in 2013 in what was the peak of the agricultural cycle. Farm incomes have fallen since then, with 2015 in particular seeing a steep fall of 38% year-over-year.
In dollar terms, farm incomes fell from $83.3 billion in 2014 to $51.4 billion in 2015. According to the USDA's estimates, net farm incomes are expected to fall to $48.9 billion in 2016. In real terms, these levels were witnessed only in 2002 out of the last 30 years beginning in 1985.
As we'll see in the next article, agriculture equipment manufacturers such as Deere & Company (DE), AGCO (AGCO), and Lindsay Corporation (LNN) have suffered steep falls as a result of these trends. Apart from crop growers, Toro Corporation (TTC) depends on golf courses and sports avenues for a chunk of its revenue. Therefore, it's less affected by the farm economy.
Why did farm incomes fall in the last three years?
With grain bins brimming across the world, crop prices have crashed since their peak in 2013 and have caused farm (MOO) incomes to fall to record lows. Prices of corn, soybean, and wheat have fallen by over 50% since 2012.
The latest annual plantings report from the USDA estimates that corn acreage will rise from 88 million in 2015 to 93.6 million in 2016. The rise in acreage despite excess inventory is unlikely to support corn prices. The report estimates that soybean acreage will fall 1% to 82.2 million acres in 2016.