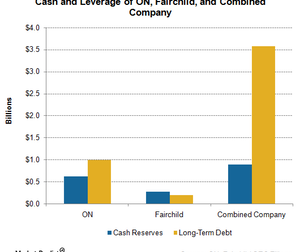 Why a Fairchild-ON Merger Could Increase ON's Leverage Threefold
By Puja Tayal

Jun. 6 2016, Updated 12:06 a.m. ET
ON will fund FCS merger through leverage 
So far, we've looked at all the synergies that a merger of ON Semiconductor (ON) and Fairchild Semiconductor (FCS) would create. But the question is, at what cost? The merger price per FCS share at $20 in cash equates to $2.4 billion. ON plans to fund the Fairchild-ON merger with a new term loan of $2.4 billion that it recently secured at an interest rate of 5.5%.
This brings us to question if ON has the capacity to handle this leverage and maintain short-term liquidity to fund its day-to-day operations.
Article continues below advertisement
Cash flows
In fiscal 1Q16, ON's operating cash flows stood at $115 million. Of that, it spent $73 million on capex (capital expenditures) and ~$45 million on repayment of long-term debt and capital leases. On the other hand, FCS earned operating cash of $0.9 million and spent $12.5 billion on capex. The company secured $15.4 million in cash from the sale of a property.
For fiscal 2015, FCS's FCF (free cash flow) stood at $24 million. ON's FCF was $200 million. A combination of the two companies would reduce capex and improve profits. That would lead to a higher FCF of ~$430 million, according to ON's estimates.
Now let's look at the leverage the combined company would have on its balance sheet.
Leveraged balance sheet
At the end of fiscal 1Q16, the two companies' combined cash reserves stood at $892.1 million. ON's cash reserves were $620 million, and FCS's were $272.1 million. Against this reserve is an existing long-term debt of $1.2 billion. ON's debt is $987.6 million, and FCS's is $198.7 million.
This cash reserve isn't sufficient to meet the long-term liabilities. In addition, ON would add $2.4 billion of long-term liability, increasing the liability threefold, leading to a net debt-to-EBITDA (earnings before interest, tax, depreciation, and amortization) of 3.2x. This is higher than the senior debt-to-EBITDA of 2.7x that came out of Microchip Technology's (MCHP) acquisition of Atmel. It's even higher than NXP Semiconductors' (NXPI) debt that doubled after its acquisition of Freescale.
Such high leverage raises many analysts' eyebrows. In the next part of this series, we'll see how ON plans to deal with the debt. The iShares Core S&P 500 ETF (IVV) invests in large-cap stocks listed on the S&P 500 Index. It has 0.06% exposure in MCHP.