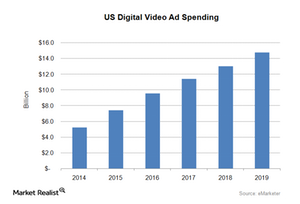 Facebook Intensifies Competition with YouTube
By Amit Singh

Updated
Facebook expanded video advertising through its audience network
Facebook (FB) recently extended the capabilities of its audience network to support more promotional videos, a move that will intensify the competition with Google's (GOOG) YouTube, the most dominant player in the video ad market.
According to Facebook, "Advertisers want their videos to reach more of the right people in more places. That's why today we're extending the Audience Network to include videos from advertisers looking to drive brand outcomes. Now, in addition to watching these videos on Facebook and Instagram, people will view them in the other apps and sites where they spend their time."
The company stated that the audience network will be delivering video ads in both "in-stream" and "in-article formats" across third-party websites and applications. For the first time, Audience Network will serve ads on desktop, thereby allowing marketers to reach people across devices.
The chart above reflects US (SPY) digital video ad spending trends. This market continues to grow at a healthy rate.
Article continues below advertisement
Facebook continues to put more emphasis on video
Facebook, in the last couple of years, has taken rapid strides in the video ad market and remains well positioned to compete against the likes of YouTube, Twitter (TWTR), and LinkedIn (LNKD). According to Facebook, "100 million hours of video are watched on Facebook every day. Video viewing time on Instagram has increased by more than 40 percent in the last six months." Video ads are more engaging and generate higher revenue.
Earlier, Facebook started to focus on autoplay video ads in a user's newsfeed. Then it experimented with other video formats such as Suggested Videos. Facebook also added the live video feature to its Mentions app. Facebook defines the Mentions app as "a better way for actors, athletes, journalists, and other public figures to stay in touch with their followers and the people and topics they care about."