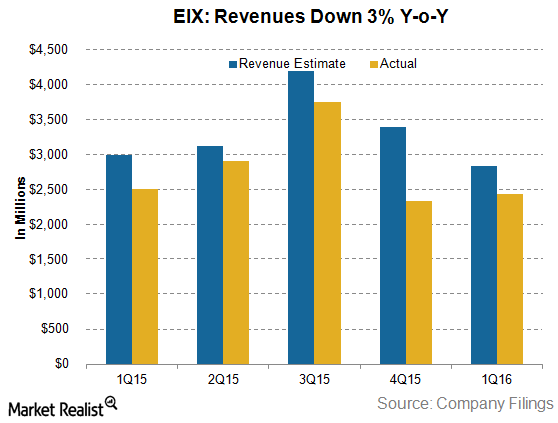 EIX Reported Lower 1Q16 Revenue due to Delayed Rate Case Decision
By Vineet Kulkarni

May. 3 2016, Published 4:12 p.m. ET
Edison International reports lower revenues
Edison International (EIX), the smallest of the three Californian utilities by market capitalization, reported its 1Q16 results on May 2, 2016. It reported a 3% fall in revenue, missing analysts' revenue expectations.
Edison International saw revenue of $2,440 million in the reported quarter compared to revenue of $2,512 million in the same quarter last year.
After its 1Q16 earnings, Edison International's chairman and CEO Ted Craver said, "First quarter results were consistent with our expectation leading us to reaffirm 2016 core earnings guidance. At SCE (Southern California Edison), we continue to see significant rate base growth driven by continued investment in infrastructure reliability and public safety and supporting California's low-carbon policy objectives."
Article continues below advertisement
Revenue drivers
Edison International reported lower revenue in the quarter because of the timing of its recognized revenue last year. The decision on the General Rate Case of EIX's principal subsidiary Southern California Edison was delayed at the California Public Utilities Commission. This delay impacted revenue negatively.
Edison International reported lower revenue compared to 1Q15 due to a fall in sales volumes driven by lower load requirements. Load growth was flat to negative in 1Q16 as mild weather conditions persisted compared to 1Q15.
California is generally considered to have a healthy regulatory environment for utilities due to its amicable policies. Policies such as decoupling and higher allowed return on equity bode well for utilities (JXI) and may not severely hamper their future performances.
Along with Edison International, Pacific Gas & Electric (PCG) and Sempra Energy (SRE) have significant presences in California. PCG will report its quarterly earnings on May 5, 2016, and Sempra will report its earnings on May 4, 2016.
Edison International makes up 1% of the iShares Select Dividend ETF (DVY).