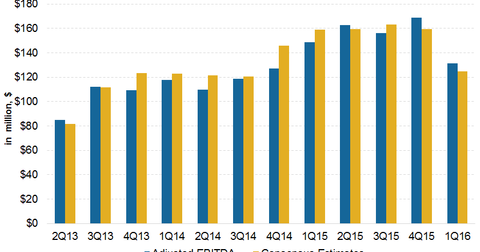 What Drove Breitburn Energy's 1Q16 EBITDA Decline?
By Kurt Gallon

Updated
Breitburn Energy's 1Q16 EBITDA
Breitburn Energy Partners (BBEP) reported its 1Q16 earnings on May 9, 2016. Breitburn Energy's 1Q16 EBITDA (earnings before interest, taxes, depreciation, and amortization) decreased to $131.5 million from $148.6 million in 1Q15, a YoY (year-over-year) decline of 11.5%. However, Breitburn Energy beat its 1Q16 EBITDA estimate by 5.3%.
Breitburn Energy's 1Q16 EBITDA drivers
According to Breitburn Energy, the YoY decrease in its 1Q16 EBITDA was driven by a decline in sales revenue "due to lower average realized prices, lower sales volume, lower commodity derivative instrument settlement receipts, lower other revenue."
BBEP recorded an average realized sales price of $21.40 per boe (barrel oil equivalent) in 1Q16 versus $32.50 per boe in 1Q15. This resulted from huge volatility in crude oil (USO) and natural gas (UNG) prices during 1Q16.
The above decline was partially offset by lower lease operating expenses. The partnership's 1Q16 lease operating expenses fell to $18.30 per boe from $22.50 per boe in 1Q15. BBEP's peers—including Linn Energy (LINE), Vanguard Natural Resources (VNR), and Legacy Reserves (LGCY)—have also undertaken various cost-cutting measures to stay afloat in the current commodity price environment.
Breitburn Energy's 1Q16 production
The partnership's total production fell to 4,848 boe in 1Q16 from 5,051 boe in 1Q15 and 5,106 boe in 4Q15. The quarter-over-quarter decline in production was due to lower crude oil, natural gas, and NGL (natural gas liquids) production.