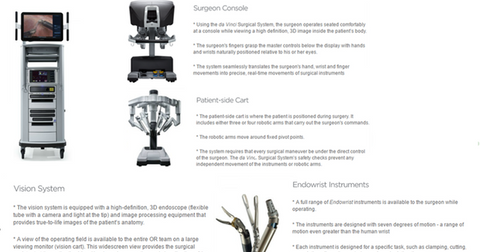 Delving into the Nuances of the Da Vinci Surgical System
By Sarah Collins

Updated
A brief overview of da Vinci
Intuitive Surgical (ISRG) develops and manufactures the da Vinci surgical system, which provides the benefits of minimally invasive surgery along with the precision and control of open surgery. It enables improved patient outcomes and lower total cost of care.
The system provides surgeons with a range of motions analogous to the human wrist's movements but with more precision and accuracy, eliminating the inherent tremors in a surgeon's hands. This system has enabled surgeons to provide less invasive surgeries to a wider range of patients.
Article continues below advertisement
Product profile
According to Intuitive Surgical, "The da Vinci surgical system consists of a surgeon's console, a patient-side cart, and a high-performance vision system. The da Vinci Surgical System translates a surgeon's natural hand movements, which are performed on instrument controls at a console, into corresponding micro-movements of instruments positioned inside the patient through small incisions, or ports."
According to the company, "The da Vinci Surgical System is designed to provide its operating surgeons with intuitive control, the range of motion, fine tissue manipulation capability and Three Dimensional (or 3-D), High-Definition (or HD) vision while simultaneously allowing surgeons to work through the small ports enabled by MIS (minimally invasive surgery) procedures."
Instruments and accessories that enhance the capabilities of the da Vinci surgical system include EndoWrist instruments, single-site instruments, the EndoWrist One Vessel Sealer, and the EndoWrist Stapler 45.
Intuitive Surgical has commercialized four generations of the da Vinci surgical system:
the standard da Vinci surgical system
the da Vinci S surgical system
the da Vinci Si surgical system
the da Vinci Xi surgical system
In 2013, Intuitive Surgical received 510(k) clearance from the FDA for the commercialization of its firefly fluorescence imaging product for the real-time imaging of bile ducts. This enables surgeons to visualize the critical anatomy during the surgery. Intuitive Surgical phased out its standard da Vinci surgical systems in 2014.
TransEnterix's (TRXC) SurgiBot system and Titan Medical's SPORT (Single Port Orifice Robotic Technology) surgical robot, which is expected to be offered at a more economical price than the da Vinci surgical system, pose potential threats to Intuitive Surgical.
Medtronic (MDT) and Stryker (SYK) are some of Intuitive Surgical's other major competitors. Investors may want to invest in the iShares Russell 1000 Growth ETF (IWF), as ISRG accounts for 0.22% of IWF's total holdings.