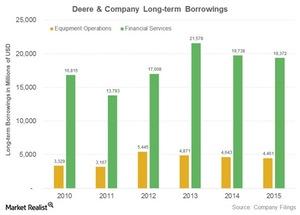 Deere's Long-Term Debt Equals Its Market Cap: Should You Worry?
By Shannon Black

Updated
Deere & Company's long-term debt
The carrying value of Deere & Company's (DE) long-term debt fell from $24.3 billion in 2014 to $23.8 billion in 2015. In the first part of this overview, we stated that the company's market capitalization was ~$25 billion.
If Deere's long-term debt is approximately the same as its market cap, why aren't investors panicking? Why does the company enjoy an investment grade "A" rating from Standard & Poor's with a "stable" outlook?
The answer lies in the amount of borrowings in the company's captive financing entity. Unlike a bank, which has a low-cost customer deposit base to give out loans, Deere's financial arm issues short- and medium-term notes as capital sources to finance its customers.
Article continues below advertisement
Debt profile in the financial services unit
Of the company's $23.8 billion in long-term debt, $19.4 billion was issued by its financial services (KBWB) arm. The average interest rate on its $17.9 billion in notes was 1.2% in 2015. For its $18.1 billion in notes in 2014, the average interest rate was 1.4%.
Wells Fargo (WFC), on the other hand, offered just 0.05% to customers holding checking accounts in its bank in 2015. JPMorgan Chase (JPM), which has a problem of plenty, even charges its large clients who deposit large sums of money into their accounts.
Compared to big banks (KBE), a high cost of funding for captive financing entities is a major disadvantage for manufacturers such as Deere & Company.
Debt profile of equipment operations
Deere's long-term debt related to equipment operation fell from $4.6 billion in 2014 to $4.5 billion in 2015. The debt was issued through notes and debentures, with maturities ranging from 2019 to 2042. These instruments have varying coupon rates ranging from 2.6% on a $1 billion debenture due in 2022 to 8.1% on a $250 million debenture due in 2030.