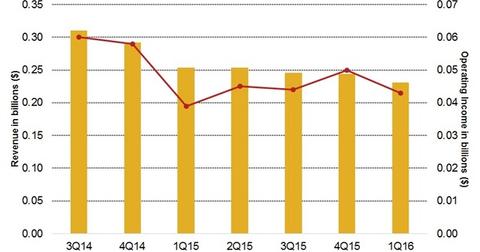 How Colgate Increased Operating Income in Africa/Eurasia Region
By Penny Morgan

Updated
1Q16 Africa/Eurasia revenue
Colgate's (CL) Africa/Eurasia segment's net revenue decreased 9.1% to $0.2 billion in 1Q16. The unit volume was flat compared to the same quarter last year with 8.0% higher pricing while foreign exchange was -17.0%. Volume gains were led by Russia and the Gulf States, which were offset by South Africa and Ukraine. The Africa/Eurasia region's organic sales rose 8.0% in 1Q16.
Article continues below advertisement
Africa/Eurasia operating income
Operating income for Colgate's Africa/Eurasia segment increased 10.3% to $0.04 billion in 1Q16, or 320 basis points, to 18.6% of net sales. The increase in operating income was primarily due to the increase in gross profit and a decrease in SG&A expenses, both as a percentage of net sales.
The increase in the gross profit for the Africa/Eurasia region was due to cost savings from the company's funding-the-growth initiatives and higher pricing, partially offset by higher raw and packaging material costs as a result of higher foreign exchange transaction costs. The SG&A expenses decreased due to lower overhead costs and decreased advertising investment.
Leading market share in Russia
Colgate continued its toothpaste leadership in Russia. For example, Colgate launched Colgate Optic White Lasting White, which prevents stains and whitens teeth.
Other successful products contributing to growth in the Africa/Eurasia region include Colgate Total Breath Health, Colgate Sensitive Pro-Relief Repair & Prevent, Colgate Slim Soft Sensitive Gum Care manual toothbrush, Palmolive Gourmet Spa, Palmolive Aroma Sensations, and Palmolive Naturals shower gels.