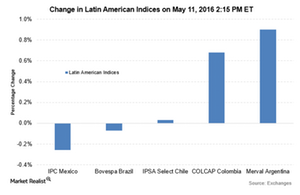 Brazilian Markets Get Ready for Impeachment Vote
By David Meyer

Updated
Brazil gets ready for momentous decision
The Brazilian markets were getting set for the impeachment trial against President Dilma Rousseff on May 11. If her opponents garner the majority of the senate seats, Rousseff will be replaced by Vice President Michel Temer. The impeachment debate began the morning of May 11.
The Brazilian BM&F Bovespa SA and the Mexican IPC index fell 0.07% and 0.26%, respectively. The rise in global crude oil prices and other essential commodities provided support to the Colombian COLCAP Index, which traded 0.68% higher. Colombia depends heavily on crude oil prices, which directly impact its export revenues. Among the Latin American indexes, the Argentinian Merval Index rose 0.90%. The Chilean IPSA Select Index was trading on a flat note.
Article continues below advertisement
Brazilian retail sales fall
Retail sales in Brazil declined in March by 5.7% on an annual basis in comparison to a fall of 4.2% in the previous month and forecasts of a 4.5% fall. On a monthly basis, retail sales fell by 0.9% in March versus a 1.1% increase in February. The fall in retail sales underscores the economic challenges that Vice President Michel Temer will face if President Dilma Rousseff is removed from office.