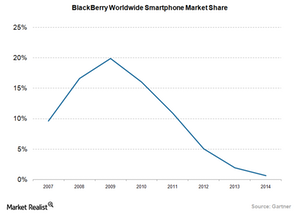 The Times Were Changing, but BlackBerry Wasn't
By Puneet Sikka

May. 9 2016, Updated 9:09 a.m. ET
BlackBerry smartphones: early popularity
BlackBerry's (BBRY) story is yet another interesting one. It was a major attraction for businesses mainly because of its "push email" feature and better user interface, as compared to other mobile devices on the market. BlackBerry was also successful in convincing businesses that its products are the most secure ones, which is an important criterion for any enterprise.
From 2007 onwards, BlackBerry started to focus on retail consumers in addition to enterprises. It released smartphone series like Curve, Storm, and Bold, and these products proved to be decently popular among consumers, especially in emerging markets like India (EPI). Notably, the initial smartphones launched by BlackBerry were QWERTY based, but Blackberry also released a few touchscreen smartphones later on in an effort to overcome stiff competition from Apple's (AAPL) iPhone.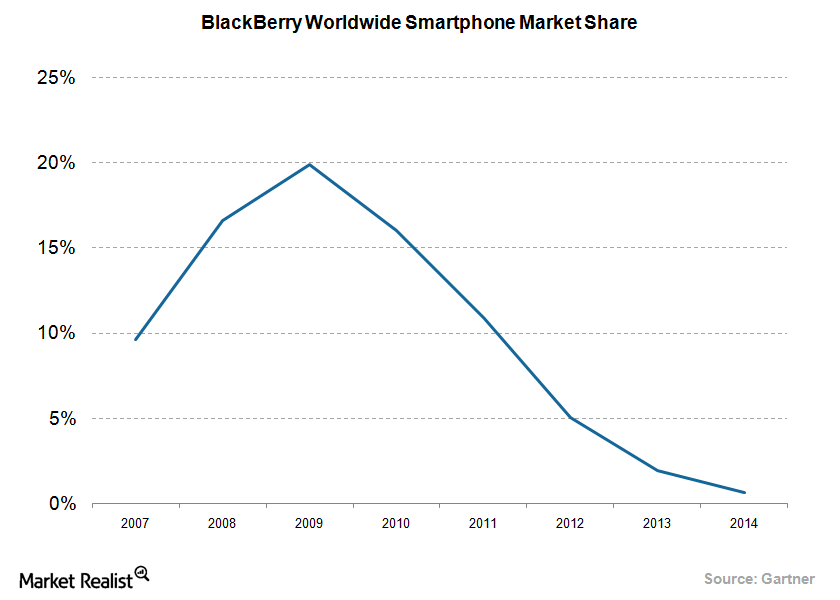 Article continues below advertisement
Keep up with innovations, or fall far behind
Things started to deteriorate for BlackBerry from 2011 onward, when Google's (GOOG) (GOOGL) Android OS (operating system) extended its reach at a fast rate. The main problem with BlackBerry was that its OS lacked the apps ecosystem required to keep users happy with its platform. Android and Apple continued to innovate, while BlackBerry brought features that were, at best, too little and too late. The chart above shows how BlackBerry's share in the worldwide smartphone market has declined at such a rapid rate over the last few years.
BlackBerry released a number of smartphones on its BB10 OS such as Z3, Passport, and Classic. But again, these products hardly moved the needle for the company. It even adopted Android's OS for its latest smartphone, PRIV, as a desperate measure to keep itself floating in the smartphone market, to no avail.
BlackBerry has slowly transformed from a hardware company selling smartphones to a software and services company selling BlackBerry Enterprise Server or BES12. BES12 is the server that securely synchronizes emails, contacts, and calendar information with a company's networks.
Meanwhile, Microsoft had been ruling the PC world. But what happened to the company's mobile device efforts? Keep reading to find out.