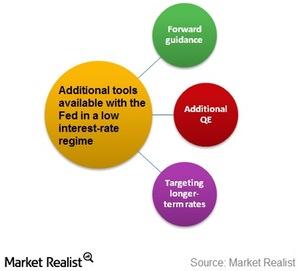 Ben Bernanke: Monetary Policy Faces Diminishing Returns
By Surbhi Jain

Nov. 22 2019, Updated 7:22 a.m. ET
Zero-bound rates impact monetary policy efficacy
On April 11,the former Fed Chief Ben Bernanke shared his thoughts on helicopter money. He talked about monetary policy tools available for the Fed to spur growth in the US economy (SPXS) (SPXL) (VFINX). Bernanke deliberated on the fact that the scope of the current monetary policy becomes quite restricted when interest rates are already low. Lowering interest rates is the first and foremost monetary policy tool used by central bankers to boost spending and growth in an economy.
Article continues below advertisement
Monetary policy faces diminishing returns
This conventional tool worked well in the past. However, with interest rates in the US (IWD) (IWF) being zero-bound since the financial crisis from 2007 to 2009 and growth and spending still stuck in low gear, the Fed is in need of additional monetary policy tools to help it achieve its goals. According to Bernanke, "at some point monetary policy faces diminishing returns," and that "the benefits of low rates may erode over time, while the costs are likely to increase."
Bernanke enumerated that forward guidance about future rate policies, additional quantitative easing, and targeting longer-term rates are additional tools available to the Fed in a low interest rate regime.
Helicopter money could work when nothing else does
Another perspective that Bernanke brought to the table related to the use of fiscal tools is that "When monetary policy alone is inadequate to support economic recovery or to avoid too-low inflation, fiscal policy provides a potentially powerful alternative." However, we saw central bankers' reluctance towards using fiscal policy measures, especially in industrial economies where government debt is already too high. Here's where helicopter money gains importance. Helicopter money works even when conventional monetary policies aren't effective and the initial level of government debt is high.