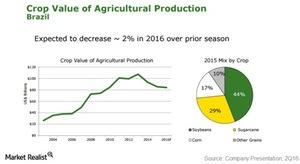 Behind the Broad Trends in Deere's Equipment Demand in Major Markets Outside the US
By Shannon Black

Jun. 2 2016, Updated 6:04 p.m. ET
Europe
Deere & Company (DE) expects demand for farm equipment machinery in Europe to be subdued in 2016 as farm incomes continue to linger at levels below the long-term average. Continued weakness in the dairy industry has also fueled this sentiment in 2016. Agriculture equipment sales growth in the region is expected to be between 0% and -5%.
Article continues below advertisement
China
Deere anticipates that overall industry sales in China will decline this year due to the economic slowdown in the country. The Chinese government recently announced its decision to eliminate the policy of setting a minimum support price for domestic corn and to allow the prices to be set by the market.
This could make Chinese corn cheaper in a market already distressed by lower corn prices. If China were to unload its inventory in global markets, corn could reverse its recent gains, and so this less stringent position on the self-sufficiency of grains could become a significant risk for global crop prices in the short-term.
India
The Indian Meteorological Department has forecasted above average monsoon after two consecutive years of severe droughts in many parts of the country. The government has increased its budgetary allocation to irrigation and crop insurance and continues to provide a minimum support price for crops.
These measures could see better growth rates in fiscal 2016, as compared to the last two years. Overall sales in Asia are expected to be down slightly YoY (year-over-year).
Article continues below advertisement
South America
Overall industry sales of tractors and combines in South America are now expected to be down by 15%–20%, as compared to the previous forecast of a 10%–15% decline. These were attributable to low farmer confidence due to the ongoing economic and political turmoil in Brazil.