Merger arbitrage
In merger arbitrage, an investor generally buys the stock of the company being acquired, short sells the relevant ratio of the acquirer's stock if applicable, and waits for the deal to close. When the merger is complete, the investor exchanges the stock of the company being acquired for the amount agreed on in the deal.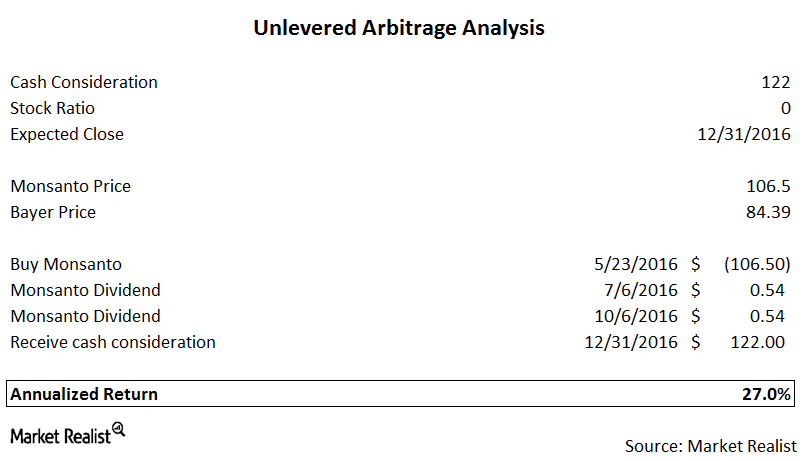 Article continues below advertisement
Bayer makes a conditional offer for Monsanto
On May 18, Monsanto (MON) announced it received an unsolicited, nonbinding takeover offer from Bayer AG, the German chemical and healthcare giant. Monsanto didn't mention a price but said the offer was contingent on due diligence, regulatory approval, and other conditions. Monsanto's Board of Directors is reviewing the proposal in accordance with its fiduciary duties.
On May 23, Bayer confirmed it was interested in buying Monsanto for $122 in cash per share, or an aggregate value of $62 billion. The press release refers to a letter dated May 10 to Monsanto's Board of Directors. This indicates the companies had been talking for a while, and Bayer might have been losing patience. As a general rule, companies don't issue letters like this (it's called a "bear hug letter") unless they feel that management isn't giving the offer serious enough attention.
The structure of the transaction (whether it is a tender offer or requires a shareholder vote) is uncertain. There's no financing condition.
The arbitrage spread is trading at $15.50, which is a 15% gross spread. Assuming a close at the end of 2016, that works out to a 27% annualized return. As a general rule, hostile deals tend to trade above the initial terms as the Market anticipates negotiation over price. This deal is trading at a huge discount, and that's a reflection of the regulatory risk involved.
Other merger arbitrage resources
Other important merger spreads include the merger between Cigna Corporation (CI) and Anthem (ANTM), which is set to close at the end of 2016. Another large chemical merger is between DuPont (DD) and Dow Chemical (DOW). For a primer on risk arbitrage investing, read Merger Arbitrage Must-Knows: A Key Guide for Investors.
Investors who are interested in trading in the agriculture sector should look at the VanEck Vectors Agribusiness ETF (MOO).