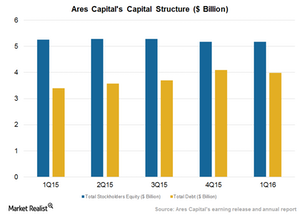 Ares Capital Increases Prudence in Capital Structure and Lowers Costs
By Robert Karr

Updated
Higher leverage
Ares Capital's (ARCC) net DE (debt-to-equity) ratio decreased to 0.77x as of March 31, 2016, marginally above the 0.65x–0.75x the management had targeted. The company is focusing on lowering its cost of debt and maintaining a prudent maturity level for its debt and diverse sources of capital.
In February 2016, Ares Capital repaid in full on its $575.0 million aggregate principal amount outstanding of the unsecured convertible notes that carried an interest rate of 5.8% per year.
Article continues below advertisement
The company is funding these redemptions by borrowing under a revolving credit facility, a continuation of which could result in a $0.03 benefit per share on an annualized basis. The company is also looking to redeem $805 million of convertible notes ahead of maturity in order to lower its interest cost.
Ares Capital's DE ratio stood at 0.77x as of March 31, 2016, higher than that of its peers in the investment management industry.
Here is a snapshot of some of its peers' returns on equity:
Together, these companies form 0.03% of the SPDR S&P 500 ETF Trust (SPY).
Debt options
Ares Capital had cash, revolving lines of credit, and small business administration debentures of $0.9 billion for investments as of March 31, 2016. The company had $77 million in cash and equivalents as well as $4.1 billion in an aggregate principal amount of outstanding debt.
The company reduced its weighted average interest rate on drawn debt capital to 5%, similar to the previous quarter. The cost could fall to 3.9% if the company were to borrow everything available to it under its revolving credit facilities.