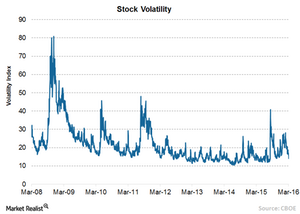 Markets Are Fairly Calm after Extreme Volatility
By Rick Rieder

Updated
After years of relative calm, market volatility has picked up over the past year. Rick Rieder explains why, disproving two popular explanations.
After a few years of relative calm, market volatility has picked up over the past year, moving back in line with long-term averages. And though markets may have quieted down a bit over the last couple of weeks, there's likely more turbulence ahead in 2016.
Market watchers have thrown out many theories to explain this elevated volatility across asset classes, but in my opinion, these market myths aren't the real explanation.
Article continues below advertisement
Market Realist – Relative calm after extreme volatility
Global equity markets (IEFA) have witnessed an intense bout of volatility in the past year. They've had corrections of more than 10% twice in 2015. The Volatility Index (VIX), a popular measure of the implied volatility of S&P 500 index options, reached its five-year high of 40.7 in August 2015. Then the index declined to a low of 14.1 in November. In February 2016, it reached a high for the new year of 28.1.
Similarly, the MSCI ACWI (All Country World Index), which captures major stocks across 23 developed and 23 emerging markets (EEM) (IEMG), fell more than 10% twice before recovering and recording a marginal fall of 4% in 2015. The onset of 2016 saw a 10% decline in the index, which subsequently recovered to report a YTD (year-to-date) loss of 1.4%.
However, the last month has witnessed some calm in the Markets with volatility declining to its two-month low. US stocks (IWD) (IWF) recovered, erasing some of the losses for the year. Similarly, the Shanghai Composite Index surpassed 3,000 for the first time in 2016. The volatility is expected to continue in 2016 because the structural factors that led to a sharp movement in the Markets should continue throughout the year.
Many Market experts have provided various plausible explanations for the rising volatility in the Market. However, many causes often blamed for the rise in volatility are myths. We'll bust some of those myths in this series and provide the real reasons behind the rise in volatility across many asset classes.