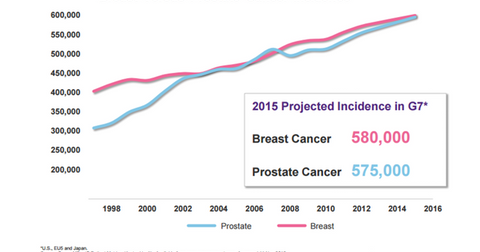 Could Xtandi's Use for Breast Cancer Be a Valuation Driver?
By Jillian Dabney

Updated
Xtandi for breast cancer
Medivation (MDVN) is evaluating Xtandi in three major types of breast cancer:
triple negative breast cancer (or TNBC)
human epidermal growth factor Receptor 2 (or HER2) amplified breast cancer
estrogen receptor (or ER) positive and/or progesterone receptor (PR) positive and HER2 normal cancer
Article continues below advertisement
Breast cancer
The American Cancer Society notes that "234,000 new cases of breast cancer were diagnosed in the United States in 2015 and ~ 41,000 deaths occurred on account of the disease."
Plus, 20% of this breast cancer population will be classified as having triple negative breast cancer (or TNBC), which is the target area for Xtandi. If Xtandi is successful in achieving a longer treatment duration of about ten months, it could earn up to $1 billion in the breast cancer space.
Xtandi's clinical trials
The phase 2 data of Xtandi proved to be effective in increasing the overall survival in TNBC patients. Medivation (MDVN) plans to initiate the phase 3, or registrational, study for the indication of TNBC in the second half of 2016.
Similarly, the top-line Phase 2 data for ER/PR+ & HER2 normal breast cancer is expected to be released in the second half of fiscal 2016. This subset forms ~50% of the breast cancer market.
Xtandi's use for the indication of AR+ and HER2 amplified breast cancer is in phase 2. For the indication of hepatocellular carcinoma, the drug is in phase 2.
The above chart demonstrates the percentage distribution of various types of breast cancers.
The companies with approved and pipeline drugs for breast cancer include Roche Holding (RHHBY), Pfizer (PFE), and Merck (MRK). Roche's HER2+ve franchise includes its lead drug, Herceptin, along with the newly launched Perjeta and Kadcyla.
Pfizer's Ibrance is indicated for HR+, HER2-negative advanced breast cancer. Merck is conducting its phase 3 study of Pembrolizumab for TNBC.
To get diversified exposure to Medivation Pharmaceuticals, you can choose to invest in the First Trust NYSE Arca Biotechnology Index ETF (FBT). Medivation accounts for 3.9% of FBT's total holdings.