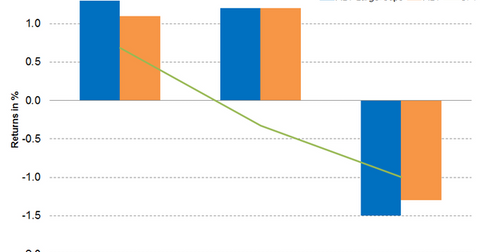 XLV Large Caps: Pfizer Moves Up on Inflectra Approval from FDA
By Peter Neil

Updated
XLV large caps
The large-cap stocks of the Health Care Select Sector SPDR ETF (XLV) went down by 1.5% and underperformed the SPDR S&P 500 ETF (SPY), which went down by 1% on April 5, 2016. XLV holds 50 large-cap stocks in its portfolio with a market cap of more than $10 billion. Among the 50 large caps, 42 stocks fell and only eight stocks advanced. The large-cap stocks account for 98.5% of the XLV's portfolio with Johnson & Johnson (JNJ) having the highest weight of 11.6% and Tenet Healthcare (THC) having the lowest weight of 0.1% in XLV's portfolio.
The above graph reflects the daily changes since April 1, 2016, of XLV large-cap stocks in comparison with the SPDR S&P 500 ETF and XLV.
Article continues below advertisement
Pfizer moves up on approvals and clinical trials
Pfizer (PFE) was in the news for the possible merger termination with Allergan (AGN). Please refer to part one of the series for more information. In a press release, Pfizer announced US Food and Drug Administration (or FDA) approval of Inflectra. Inflectra is now the first and only biosimilar monoclonal antibody (mAb) therapy, and only the second biosimilar to be approved in the US. Inflectra is a treatment indicated for reducing signs and symptoms in patients with rheumatoid arthritis, adult ulcerative colitis, plaque psoriasis, psoriatic arthritis, ankylosing spondylitis, and adult and pediatric Crohn's disease.
In another press release, Pfizer and Merck (MRK) announced "the treatment of the first patient in a Phase III study of avelumab, an investigational fully human anti-PD-L1 IgG1 monoclonal antibody, in an advanced renal cell carcinoma (or RCC) setting. The study, JAVELIN Renal 101, is the first pivotal trial investigating avelumab in combination with INLYTA® (or axitinib), a tyrosine kinase inhibitor (or TKI), in patients with previously untreated advanced RCC."
Pfizer closed at $30.04 and was trading above its 20-day moving average. Year-to-date, Pfizer is down by 6.9%. Pfizer has a book value of $10.48 and with its current price, the stock is trading at a price-to-book value (or PBV) of ~2.9x and a 2016 forward price-to-earnings multiple of 13.1x. Pfizer has a weight of 7.3% in XLV's portfolio.