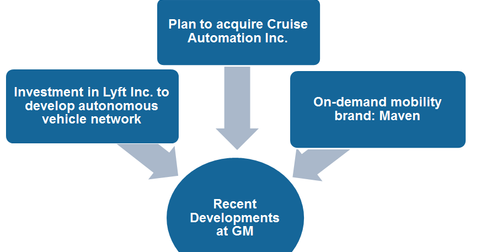 Where's General Motors Headed with Lyft and Cruise Automation?
By Jitendra Parashar

Updated
General Motors' investment in Lyft
General Motors (GM) entered the business of car-sharing and ride-sharing by purchasing a 9% equity ownership interest in Lyft for $500 million. GM had already launched its multiple car-sharing programs under a single brand called Maven. In its 1Q16 conference call, GM management confirmed its plan to acquire Cruise Automation. Let's find out where General Motors is headed with these key developments.
Article continues below advertisement
Need for innovation
Today, auto industry dynamics are changing at a very fast pace. To stay ahead of the competition, automakers (XLY) are finding it necessary to innovate and implement more quickly than their competitors. Increasing popularity of electric vehicles (or EVs) and the development of vehicle automation have now taken center stage and are being regarded as the future of the auto industry. So where is General Motors headed?
To take on competition in the EV segment, General Motors has unveiled the Chevrolet Bolt, its first all-electric vehicle. Notably, Tesla Motors (TSLA) unveiled its first mass electric vehicle on March 31, 2016.
GM is also focusing on technology to provide autonomous vehicles. Some of its key development include its investment in Lyft, the ride-sharing services provider, and the launch of its on-demand mobility services under the brand name Maven. With the help of Lyft, its strategic partner, GM expects to develop an autonomous vehicle network in the near future.
Plan to acquire Cruise Automation
Cruise Automation is a San Francisco–based technology company, founded in 2013. The company is known to provide highway autopilot systems for vehicles. GM's plan to acquire this start-up company reflects the company's intention to be a big player in the autonomous vehicle segment.
Reportedly, other automakers, including Toyota (TM) and Ford (F), are also developing the technology for autonomous vehicles. The acquisition of Cruise Automation should give GM an edge over its competition. It will be interesting to see how soon General Motors can integrate the autopilot technology into its vehicles.
In the next part, we'll look at some key factors that can affect General Motors' valuation multiples in the coming quarters.