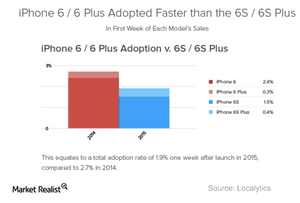 What's Pulling Down Apple iPhone Sales?
By Puja Tayal

Updated
What's causing the slowdown in iPhone sales?
So far in this series, we've seen that Apple (AAPL) is reportedly extending its 30% reduction in iPhone production for another quarter until June 2016. We also saw the likely impact of this extension on semiconductor suppliers' earnings and stocks. Now let's explore the root cause of declining iPhone sales.
Like PCs (personal computers), the smartphone market is beginning to see a prolonged slowdown. Apple is not immune to this trend. Several macroeconomic, technological, and industrial factors are affecting iPhone sales. Let's look at each factor in detail.
Article continues below advertisement
Macroeconomic environment
The weak global macroeconomic environment, especially in Apple's key market China, has lowered consumers' buying power. Apple's growth in the United States has stagnated. The strengthening US dollar has made iPhones more expensive for consumers in China and emerging markets (EEM). This is attracting consumers to mid and low-end phones.
Qualcomm (QCOM) and Taiwan Semiconductor Manufacturing (or TSMC) (TSM) have shifted their focus toward mid and low-end phones to maximize revenue growth. Apple also launched a cheaper version, the iPhone SE, in March 2016 to boost sales. But it's unlikely that Apple will produce it in large volumes.
Lack of technology upgrade
The smartphone industry is struggling with a serioius challenge of stagnation in technology. The handset makers are left with very few new features to offer, which is discouraging consumers from upgrading their phones. Samsung (SSNLF) is looking to develop a phone that is bendable, but the technology is still in the research stage with no update on the progress.
The last time Apple witnessed a slowdown in iPhone sales growth was in 4Q13 when the company launched new models with bigger screens. This boosted iPhone sales significantly, particularly in Asia. Now the company has no dramatic features to offer that could boost iPhone sales.
Apple launched software products such as Apple Pay, Apple Music, and smart home software, but none of these could grab consumers' attention like the iPhone did. Now, all eyes are set on the upcoming iPhone 7. This has consumers excited, with 44% of respondents of a survey conducted by Goldman Sachs showing interest in buying the iPhone 7 in September 2017.
Rumors are floating around that Apple might move up the launch of its iPhone 7 to address the slump in sales. But there's no evidence for this. The above factors suggest that the iPhone boom period could be nearing its end.
In the final part of our series, we'll see why the semiconductor industry outlook is rather bleak.