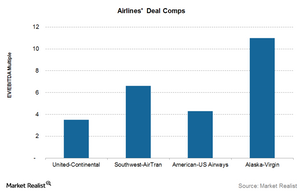 Is Virgin America Really Worth the Premium Alaska Is Paying?
By Ally Schmidt

Apr. 20 2016, Updated 4:04 p.m. ET
What did Virgin America have to offer?
Virgin America (VA) doesn't own any of the 60 aircraft in its fleet—all of them are leased. All of the ground equipment is leased too. The brand name is leased from Sir Richard Branson's "Virgin" Group.
It does own its two hubs—one in San Francisco and another in Los Angeles. The company managed to report net profit of $201 million. This is an exceptional 64% growth thanks to falling crude prices.
Article continues below advertisement
Comparison to past acquisitions
Alaska Air Group (ALK) acquired Virgin America at an EV-to-EBITDA (enterprise value to earnings before interest, tax, depreciation, and amortization) multiple of 11x—the highest among the past mergers in the industry.
United Airlines (UAL) acquired Continental Airlines in 2010 at an EV-to-EBITDA multiple of 3.5x. Southwest Airlines (LUV) acquired AirTran in 2010 at an EV-to-EBITDA multiple of 6.6x. American Airlines (AAL) acquired US Airways in 2013 at an EV-to-EBITDA multiple of 4.3x
Is the premium justified?
We should remember that all of the past mergers in the airline industry occurred during an industry downturn. The acquired company was either in bankruptcy or had recently emerged from creditor protection. In contrast, both Alaska Air Group and Virgin America are currently profitable. On the upper end of the cycle, the multiple should actually drop because of the higher EBITDA.
To put things in perspective, Virgin America only turned profitable in 2013 with a 1% net margin. Since then, the net margins improved to 5% in 2014 and 15% in 2015. However, all of this expansion came from fuel savings. Virgin America's fuel expenses decreased from 33% of its revenue in 2014 to 23% of its revenue in 2015.
If fuel prices continue to correct and airlines aren't able to pass it on to customers, they will return to their minuscule profits and possibly even losses. Alaska's increasing leverage only makes this riskier.
Alaska seems to have paid a high premium for Virgin America. An industry downturn could put its record of being profitable in each of the past ten years in jeopardy.
Alaska Air Group forms 1.4% of the iShares S&P Mid-Cap 400 Growth ETF's (IJK) holdings.