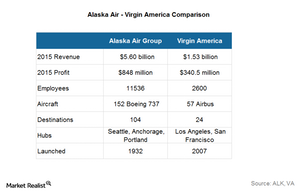 Virgin America Deal Will Impact Alaska's Financials and Operations
By Ally Schmidt

Nov. 20 2020, Updated 11:52 a.m. ET
Alaska versus Virgin America: 2015 financials
For fiscal 2015, Alaska Air Group's (ALK) revenue grew by 4% to $5,598 million from $5,368 million in 2014. It reported operating margins of 23% and net margins of 15%. The unit revenue—revenue earned per available seat mile—was at $0.12. The yield—average fare paid per mile—was at $0.14. The operating expenses, excluding fuel, were at $0.08. The fuel cost per gallon was $1.88.
For fiscal 2015, Virgin America's (VA) revenue grew by 3% to $1,529 million from $1,489 million in 2014. It reported operating margins of 12% and net margins of 22%—11% excluding the tax benefit. The unit revenue was at $0.11. The yield was at $0.13. The operating expenses, excluding fuel, were at $0.08. The fuel cost per gallon was $2.06.
Article continues below advertisement
Financial impact
The combined entity will boast revenue of more than $7 billion—27% higher than Alaska's 2015 revenue of $5.6 billion. According to Alaska Air Group, after full integration, the airline will see annual cost savings of $225 million. The one-time integration costs for the deal would be ~$350 million. Alaska expects Virgin America to start adding to its earnings in the first year—excluding integration costs.
After the Virgin America deal, Alaska's leverage would increase significantly. Alaska has net cash of $548 million. Assuming Alaska uses the entire remaining cash for the acquisition, it's $2,052 million short of the acquisition price. This shortfall will have to be funded through debt. In addition, it will also acquire Virgin America's net debt of $710 million. This means an additional debt of $2,762 million. Analysts estimate next year's EBITDA (earnings before interest, tax, depreciation, and amortization) for the combined entity at $2,134 million. This means a total debt-to-EBITDA ratio of 1.29x. Alaska will be equal to the highly levered United Continental (UAL) and American Airlines (AAL).
Operational impact
Alaska's traffic has been growing by 9% in the last year. It has been aided by 11% growth in capacity. In contrast, Virgin America's traffic only grew 4% in the last year. This was probably due to the slow capacity expansion of 4%. Since Alaska is expected to reduce the pace of capacity addition in 2016 by 8%, we can expect demand to slow down even more given Virgin America's slower capacity expansion.
Alaska Air Group forms 1.4% of the iShares S&P Mid-Cap 400 Growth ETF's (IJK) holdings.
We'll get a clear picture after the 1Q16 conference call. So, be sure to follow Market Realist's Alaska Air Group page.