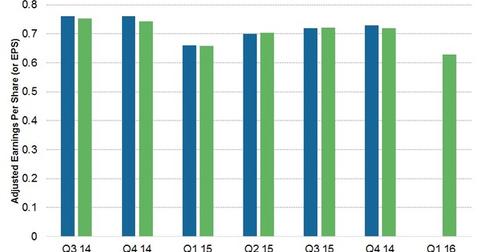 Venezuela's Discontinuation: What Impact on Colgate's Earnings?
By Penny Morgan

Updated
4Q15 adjusted diluted EPS recap
Colgate-Palmolive's (or Colgate's) (CL) first quarter earnings will be announced on April 28, 2016. Wall Street consensus analyst estimates for 1Q16 adjusted EPS (earnings per share) is $0.63. The first quarter ended March 31, 2016. The consensus estimate for 1Q16 represents a 4.6% fall year-over-year compared to 1Q15.
Colgate's reported adjusted diluted EPS fell 3.9% to $0.73 in 4Q15 compared to $0.76 in 4Q14. However, Colgate came in ahead of consensus Wall Street analyst estimates for earnings after being in line with the estimates for three consecutive quarters.
Article continues below advertisement
Earnings versus peers
On a currency-neutral basis and excluding after-tax charges on special items, diluted EPS increased in double digits. The special items included the 2012 Restructuring Program, Venezuela's accounting change, and other foreign competition charges.
For Procter & Gamble (PG), currency-neutral core EPS increased 21% for fiscal 2Q16. It was driven by non-cash impairment charges related to the Batteries business in the base period. Adjusted EPS for Kimberly-Clark (KMB) increased to $1.42 in 4Q15 compared to EPS from continuing operations of $1.35 in 4Q15. Church & Dwight's (CHD) 4Q15 adjusted EPS increased to $0.82, beating estimates by $0.01.
Clorox's (CLX) fiscal 2Q16 diluted earnings increased 18%, largely driven by gross margin expansion as well as volume growth of 1%.
Impact of Venezuela operations on EPS
During 4Q15, Colgate announced it will no longer include the results of its Venezuelan operations in its consolidated financial statements. This will impact diluted EPS in 2016. The company expects diluted EPS to be -$0.10 for 2016 and -$0.02 and -$0.03 per quarter.
Colgate makes up 0.7% of the iShares Global 100 (IOO).[1. updated April 19, 2016]
In the coming parts of the series, we'll focus on the impact of negative foreign currencies on Colgate's reportable geographic segments. We'll also recap 4Q15 margins.