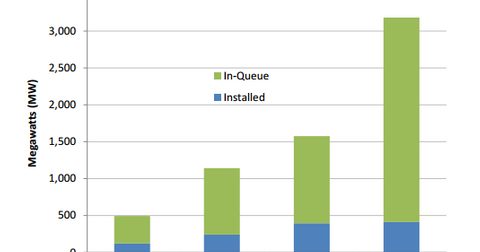 Utilities, Solar Players Come Together for Net Metering Reforms
By Vineet Kulkarni

Updated
New York utilities partner with solar players
The much-debated issue of net metering saw an interesting development this week when six New York utilities and three solar companies jointly proposed a solution.
New York State regulators are struggling with the issue of setting renewable energy usage rates.
The alliance, called the Solar Progress Partnership, includes Consolidated Edison (ED), SunEdison (SUNE), SolarCity (SCTY), Orange and Rockland Utilities, New York State Electric & Gas, Rochester Gas and Electric, National Grid, Central Hudson Gas & Electric, and SunPower (SPWR).
This alliance has indeed raised the eyebrows of many industry experts, but at the same time, the move is considered congratulatory. Reforms in the sector are in need of time.
Article continues below advertisement
Reforms in the making
The proposal submitted by the Solar Progress Partnership on April 18, 2016, proposed full payment of the retail electricity rate for individual net metered customers until 2020. However, utilities would need to be paid by developers of big solar farms or large solar arrangements.
After 2020, the retail rate paid would be periodically reduced based on a formula with variables such as the wholesale cost of power and the relief provided to the grid. The policies and rate payments would vary by location.
What would change?
According to current net metering policies, utilities credit their customers for the electricity they generate but do not use. Net metering customers are often credited at the full retail electricity price, even though it would cost much less for utilities if they were to buy it from wholesale markets or produce it themselves.
The group has proposed keeping the existing policy in effect until 2020 for individual customers. However, the utilities will start to receive payments immediately from developers of large solar farms.
Buying power at a higher rate increases the burden on utilities. Utilities also incur the costs of delivering power, including maintaining the electric grid and other infrastructure.
As a result, utilities (VPU) were in favor of net metering customers' being credited at wholesale market prices instead of full retail electricity prices. This would make up for the revenue loss due to net metering.