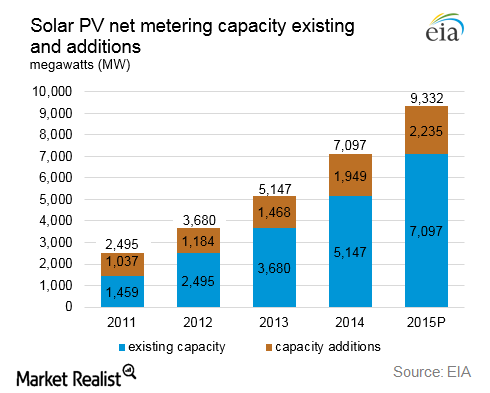 Utilities: Paying Wholesale Price for Net Metering Clients Is Unruly
By Vineet Kulkarni

Apr. 5 2016, Updated 1:24 p.m. ET
Growth in the solar energy domain
Although there's strong growth in solar penetration in the US for half a decade, less than 1% of the US population is using solar power. Therefore, there's a large scope for solar PV (photovoltaic) to grow more. It's expected that solar penetration will likely grow in the distributed generation area considering customer preferences.
Article continues below advertisement
Impact on utilities
According to net metering policies, utilities credit their customers for the power they generate but don't use. Net metering customers are often credited at the full retail electricity price even though it would cost much less for utilities if they would buy it from wholesale markets or produce it themselves. Buying the power at a higher rate increases the burden on utilities. They also incur the cost of delivering power like maintaining the electric grid and other infrastructure. As a result, utilities think that net metering customers should get credited at wholesale market prices instead of full retail electricity prices.
Spending more on capital projects is one of the proven gimmicks for utilities to earn more. Utilities (FXU) recover their capital spending from an investment recovery mechanism approved by regulators. However, net metering discourages utilities from spending more in electric grid as well as large capacity generation plants. Distributed generation is becoming more appealing as the fixed costs for solar PV (TAN) installations are declining. This could be a potential threat to the traditional electric utilities (XLU). It could dampen earnings in the near future. Large-cap utilities like Duke Energy (DUK), NextEra Energy (NEE), and Southern Company (SO) are actively investing in renewable capacities. However, they have less exposure to distributed generation.
Earlier, we discussed that regulatory policies are one of the important factors that drove net metering in the US. However, the policies vary by state. There has been turmoil over the regulatory environment in the domain. We'll discuss this next.