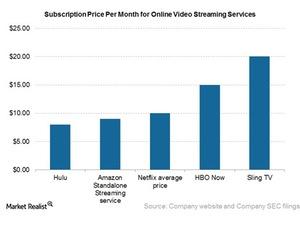 Strategic Importance of HBO Now for Time Warner
By Shirley Pelts

Updated
HBO Now subscribers on the rise
HBO Now, the OTT (over-the-top service) from Time Warner (TWX), continues to grow in importance. The parent company expects that the revenue contribution of HBO Now to subscription revenues should increase even further in fiscal 2016.
An indication of that was the news that Time Warner's HBO Now was close to hitting the 1 million subscriber mark. Early this month, Time Warner's CEO, Jeff Bewkes, announced that Time Warner's HBO Now OTT service had close to 1 million subscribers compared to 800,000 at the end of 2015. Bewkes also stated at
Bewkes also stated at the Deutsche Bank (DB) investor conference that HBO is increasing its focus on original programming by ramping up its original programming to 600 hours each year.
Article continues below advertisement
In April 2016, Time Warner further increased the reach of HBO Now with HBO Now becoming available on Microsoft's (MSFT) Xbox One. Time Warner also stated at the Deutsche Bank investor conference that the company is also planning to make it available on Sony's (SNE) Playstation. HBO Now is already available on Apple TV (AAPL).
Pricing of HBO Now
As the above chart indicates, Time Warner's HBO Now is priced at the higher end of online streaming services with a subscription price of $15 per month. In contrast, Hulu's ad-supported plan costs $8 a month, while Netflix's plans average to $10 a month.
When asked whether HBO Now's subscription price per month was "too high" at the Deutsche Bank investor conference, Bewkes replied, "I think we're not trying to pursue the lower price strategy that some of the syndication VOD services have. So, so far, we're very happy with it. We think it's working very well as an additive thing. We've seen very well this year that there has not been cannibalization of the HBO NOW adds to the basic packages that are available from your video distributor."
Time Warner makes up 0.33% of the SPDR S&P 500 ETF (SPY). SPY also has an exposure of 2.6% to the Communication Services sector.