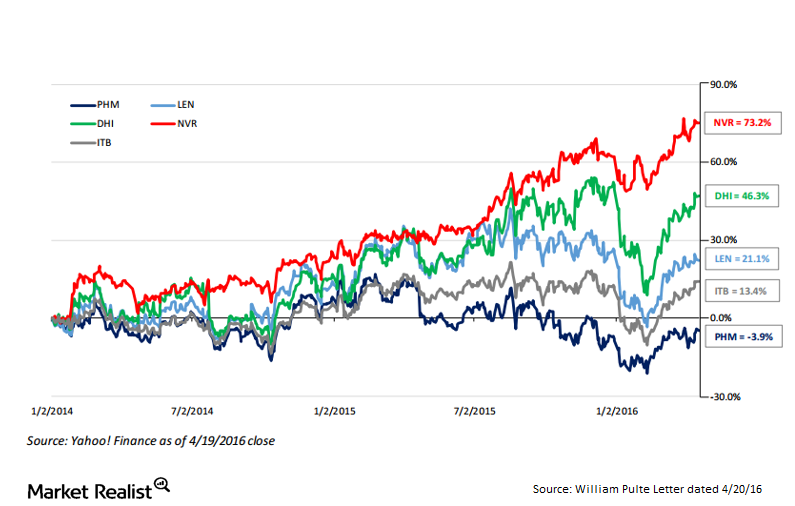 Why PulteGroup's Founder Wants to Fire the CEO and Lead Director
By Brent Nyitray, CFA, MBA

Apr. 25 2016, Published 9:28 a.m. ET
PulteGroup has been a chronic under-performer
In 2010, PulteGroup (PHM) initiated a value-creation strategy in order to improve its relative performance compared to peers. Over time, Pulte has lifted its gross margins and improved revenues. However, the stock has still lagged its peers, especially the S&P SPDR Homebuilder ETF (XHB). Founder and largest shareholder William Pulte has had enough and has launched a public campaign to remove CEO Richard Dugas and Lead Director Jim Postl.
Article continues below advertisement
The Fix Pulte Now campaign
William Pulte has launched a website, www.fixpultegroupnow.com, that lays out the case for why CEO Richard Dugas should be forced to resign. Dugas has informed the Board of Directors that he intends to retire in about a year. However, William Pulte would like him gone sooner.
In his latest letter, dated April 20, 2016, William Pulte expressed disappointment with some Pulte initiatives, including the merger with Centex, which hasn't worked out as hoped. William Pulte notes the underperformance of Pulte compared to industry peers, including NVR (NVR), Lennar (LEN), and D.R. Horton (DHI). His main concerns include the following.
Lackluster total shareholder return and value destruction: The above chart shows how PulteGroup has underperformed its peers and points out that, over the past 12 years of Richard Dugas's leadership, the company has lost over half a billion dollars. This loss is understandable post-bubble, but it includes the bubble years as well.
Poor operating results and failed acquisition integration: Merger activity is a big bone of contention since the company has added 700 employees over the past three years and just purchased luxury builder Weiland Homes. The Centex acquisition has underperformed expectations.
Continued loss of valuable talent: Pulte cites 20 top executives who have left the company recently in order to work for competitors.
Poor board oversight and corporate governance concerns: William Pulte characterizes this point as follows. "PulteGroup's independent directors have no experience in single family homebuilding and therefore lack the experience, expertise and capability to provide strategic guidance to management on how to address the Company's chronic underperformance."