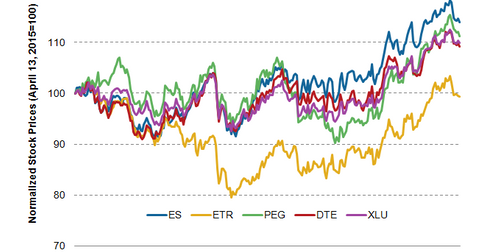 Why the Midstream Business Seems Sustainable to Eversource Energy
By Vineet Kulkarni

Updated
Outlook
Integrated utility holding company Eversource Energy (ES) is planning to sell 1,200 megawatts of its generation business in the next two years. After that, its maximum rate base will consist of transmission and distribution along with its midstream assets.
Eversource's midstream assets include the Access Northeast natural gas pipeline, which is expected to begin operations by 2018–2019. Eversource and Spectra Energy (SE) each hold 40% ownership in this pipeline. The remaining 20% rests with National Grid. ES's Northern Pass clean energy transmission project is also expected to be operative by 2019.
Article continues below advertisement
Amid flat growth in the electric business, Eversource's focus on transmission and midstream is a welcome move that could support the company's long-term growth plans. DTE Energy (DTE) and Sempra Energy (SRE) are other utilities (PUI) that are expanding to the midstream business beyond their traditional utility operations.
Price targets
According to Wall Street analysts, ES has an estimated price target of $57.13. This implies a possible rise of about 1% in one year. It's currently trading at $56.67 as of April 13, 2016.
Of the 19 analysts tracking Eversource, four recommend it as a "buy," while 14 recommend it as a "hold." One analyst has a "sell" recommendation on Eversource as of April 13.
By comparison, analysts have given a price target of $66.85 to Consolidated Edison (ED) compared to its market price of $75.25. This implies a possible downside of 11% in one year.
PPL Corporation (PPL), however, has an estimated upside of 3% and a target price of $38.5. Xcel Energy (XEL) has a price target of $40 compared to its market price of $41, indicating a downside of 3.3%.