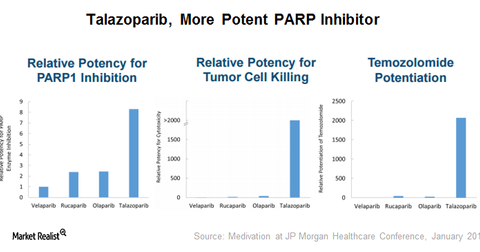 Medivation's Key Assets: Talazoparib and Pidilizumab
By Jillian Dabney

Updated
Talazoparib, key pipeline molecule
Medivation (MDVN) acquired worldwide rights for Talazoparib from BioMarin Pharmaceutical (BMRN) in 4Q15. The drug is also referred to as MDV3800. BioMarin focuses on rare disease drugs rather than cancer therapies.
Talazoparib, a PARP (or poly ADP-ribose polymerase) inhibitor is currently in a phase 3 clinical study called EMBRACA. This study is for the treatment of patients with gBRCA mutated advanced human epidermal growth factor receptor 2 (or HER2) normal breast cancer.
Other targeted indications for the drug include prostate cancer, small cell lung cancer, and ovarian cancer. It is believed to address a wider spectrum of tumor types.
Article continues below advertisement
Pidilizumab or MDV9300
Medivation licensed pidilizumab from CureTech in 4Q14. The drug was believed to be an anti-PD-1 (or Programmed Death-1) antibody. However, the current mechanism of the drug is unknown.
Medivation noted that in March 2016, the FDA "lifted the partial clinical hold on the Investigational New Drug (or IND) application for pidilizumab in hematological malignancies and confirmed that the Phase II clinical trial in patients with relapsed or refractory diffuse large B-cell lymphoma (or DLBCL), as well as other studies that cross reference the IND, may now proceed."
Medivation's label expansion strategy for key drugs is in line with companies such as Alexion Pharmaceuticals (ALXN), Regeneron (REGN), and Vertex Pharmaceuticals (VRTX). Alexion boosted the sales of its key drug, Soliris, by expanding its label. Regeneron is trying to expand the target population of its key drug, Eylea. Vertex has also adopted the label expansion strategy for Kalydeco.
MDV4463
The MDV4463 molecule is in phase 1 trials. It has lowered triglycerides, cholesterol, glucose, insulin, and weight in animals.
To get broad-based exposure to Medivation while controlling company-specific risks, investors can choose to invest in the Vanguard Growth ETF (VUG). Medivation accounts for 0.09% of the fund's total holdings.