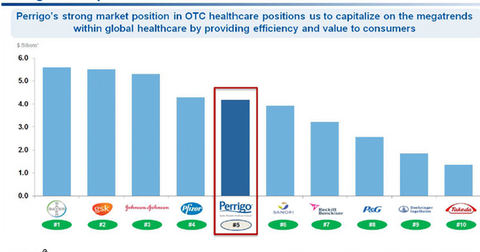 Market Dynamics Should Strengthen Perrigo's OTC Business in 2016
By Margaret Patrick

Updated
Market dynamics
Perrigo (PRGO) is expected to witness an organic growth of 5%–10% in its consumer over-the-counter (or OTC) product revenues in 2016. The company is expected to capitalize on favorable market dynamics for strengthening its position in the global OTC market.
The above diagram shows that Perrigo ranks fifth in the global OTC market and earns about 70% of its total revenues from the consumer OTC business. To learn more about Perrigo's business model, please refer to An Overview of Perrigo's Business Model.
If Perrigo manages to further improve its position in the global OTC market, it could boost the company's share prices as well as those of the PowerShares Dynamic Pharmaceuticals Portfolio ETF (PJP). Perrigo accounts for about 3.9% of PJP's total portfolio holdings.
Article continues below advertisement
Population and demographics
As the overall population, as well as the percentage of the aging population, continues to grow, there has also been an increase in the demand for cheaper and more efficient OTC products as compared to prescription drugs. After the implementation of the Affordable Care Act (or ACA), the US government has also increased its focus on reducing healthcare costs.
These trends are expected to contribute about 2%–3% organic growth in Perrigo's OTC revenues in 2016. Favorable population and demographic trends are also expected to boost OTC revenues of peers such as Johnson & Johnson (JNJ), Pfizer (PFE), and GlaxoSmithKline (GSK).
Shift to store brands
The US market is witnessing a shift in demand for OTC products from national brands to store brands. Store brands, also called private labels, are preferred by consumers due to their greater affordability and availability. This emerging trend is expected to add approximately 2%–3% to Perrigo's OTC organic growth in 2016.
New OTC products
Perrigo has continued to introduce new OTC products to the market. Additionally, the increasing rate of Rx-to-OTC switches is also expected to fuel Perrigo's growth in the OTC market. According to the Consumer Healthcare Products Association, "Rx-to-OTC switch refers to the transfer of proven prescription drugs (Rx) to nonprescription, OTC status." New OTC products are expected to increase Perrigo's organic OTC revenues by about 1%–5% in 2016.
In the next part of this series, we'll explore the key drivers of Perrigo's Consumer Healthcare business for 2016.